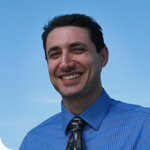 SSOE's Zach Platsis to Present on Solar Power, "Building Integrated Photovoltaics"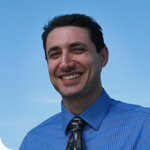 TOLEDO, Ohio – May 18, 2009 – SSOE will have a significant presence at the Energy Optimization and Renewable Energy in Residential and Commercial Buildings Conference, May 21, 2009. SSOE is a sponsor of the conference. In addition, the company's Sustainable and Renewable Energy Specialist, Zach Platsis, will be a featured presenter.
The conference, presented by The Wright Center for Photovoltaics Innovation and Commercialization (PVIC), will bring together leaders in the architectural, engineering, R&D, manufacturing, construction, and commercial development fields. Attendees will have the opportunity to meet and learn about the application of photovoltaics for new and renovated construction.
Platsis will speak at 1:30 p.m. on "Building Integrated Photovoltaics". His presentation will examine photovoltaic building components on two levels. He will discuss new ways solar components are being built directly into building materials as well as how the flexibility of some solar components allow for the direct application to existing facilities.
Platsis specializes in sustainability planning as well as the selection and implementation of alternative energy technologies, including solar, wind, biomass, geothermal, and fuel cells. His expertise includes sustainability audits, implementation of conservation projects, evaluation of emerging renewable energy technology, and assisting clients as they apply for applicable energy efficiency grants and incentives.
SSOE has long focused on providing sustainability resources to their clients, most recently through their newly formed Sustainable and Renewable Solutions (SRS) group which helps clients sort through the many options surrounding sustainability issues like energy efficiency and renewable energy. The group creates long and short-term strategies for clients who are looking for ways to utilize emerging energy technologies.
The meeting will be held at the Dana Conference Center at 3110 Glendale Avenue in Toledo. Registration is still being accepted at http://pvic.org/conference/.
https://www.ssoe.com/wp-content/uploads/2009/05/150x150_SSOE_zach-platis-present-on-solar-power.png
150
150
hitch
http://www.ssoe.com/wp-content/uploads/SSOE-1805-Reg-2.svg
hitch
2009-05-18 14:00:40
2018-07-12 15:12:50
SSOE's Zach Platsis to Present on Solar Power, "Building Integrated Photovoltaics"