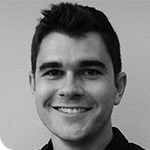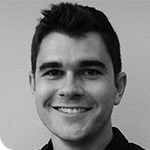 ANAHEIM, California, May 03, 2019 – SSOE Group (www.ssoe.com), a global project delivery firm for architecture, engineering, and construction management, announced today that Tony Sabat, BIM / CAD Technical Specialist, has been selected to present two sessions during the AEC Next and SPAR 3D Technology Expo + Conference 2019. This event will be held May 21 – 23, 2019 at the Anaheim Convention Center in Anaheim, California.
Tony Sabat will present two sessions at AEC Next / SPAR 3D. The first taking place on Wednesday, May 22, 2019 at AEC Next titled "Facility Management to Campus Management: The Interconnected Campus". Information has become an overwhelming asset for facilities and managing them affectively. The tipping point for this data has been the extraction of actionable details to provide insight into not only how facilities can perform better but how facilities can perform better in tandem with other facilities to begin developing a more holistic approach to campus management. This presentation will dive into how many evolving technologies leveraged in the design and construction process can now be further implemented into the lifecycle of the facilities and create an interconnected campus.
Tony's second session will take place on Thursday, May 23, 2019 at SPAR 3D titled "Fundamentals of 3D Technologies: Options for 3D Deliverables and Choosing Appropriately". This session will take a dive into the numerous deliverables that can be generated from 3D reality capture data. While the point cloud is always part of the hand-over, the point cloud itself has little direct value for most of clients and owners. The real value comes from second or third order deliverables generated from the point cloud data. A broad look will be taken at the variety of deliverables one can turn over using prior projects as examples. Presenters will touch on everything from historic preservation work to industrial facilities; building information models (BIM) to geo-located 360 photographs. No deliverable is safe…2D CAD might even be talked about. Additionally, a long Q&A session with take place with the audience.
One of several certified drone pilots on staff at SSOE, Tony Sabat specializes in reality capture, virtual reality workflows, and integrated infrastructure solutions and is well versed in numerous drone applications. He has recently been published in several publications including LiDAR News for his blog articles "Artificial Intelligence Assists with Reality Capture Workflows" and "Minimum Effective dose of Accuracy", as well as SPAR 3D for his article "How Accurate is the Marketing of Accuracy in the Reality Capture World".
The AEC Next Technology Expo + Conference highlights commercial / industrial applications of technologies supporting the architecture, engineering, and construction communities. The AEC Next conference schedule features project-centric, solutions-oriented presentations from AEC industry professionals, which provides conference attendees with an opportunity to learn about the latest technologies and how they are being applied to solve critical business challenges.
For more information on these session or to register for the conference, click here.
https://www.ssoe.com/wp-content/uploads/2018/08/Tony_Sabat_150x150.png
150
150
Jenni Roder
/wp-content/uploads/2018/05/logo_ssoe.png
Jenni Roder
2019-05-03 13:16:59
2019-07-03 15:03:34
Tony Sabat, One of SSOE's Top BIM Experts, to Present Two Sessions at the Joint AEC Next and SPAR 3D Technology Expo + Conference 2019