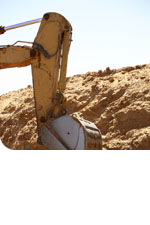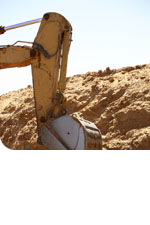 BLUE SPRINGS, MISS.– September 27, 2007 – SSOE, Inc., one of the nation's largest architecture and engineering firms, recently completed site design for the new Toyota assembly plant in Blue Springs, Miss. This is the largest site work and earth moving project that Toyota has ever undertaken in the US. It is a civil engineering feat that requires moving 16 million cubic yards of earth in order to make the site level enough to construct Toyota's newest assembly plant on the site.
Contractors began moving the earth on September 1, coinciding with the start of foundation and structural steel construction. SSOE is providing full architecture and engineering services for the facility, which will produce the ToyotaPrius beginning by 2010. These services include civil, structural, architectural, mechanical, electrical, fire protection and chemical process design.
The Blue Springs, Mississippi, earthwork package represents four times more earth moved in less time than any other Toyota project in North America. SSOE engineers faced the challenge to develop a plan to move roughly enough dirt to fill an average NFL football stadium approximately 25 times.
SSOE employed an integration of NavisWorks 3D/4D Design Review software and Bentley InRoads road and site design software to help shape the site before and after the civil engineering portion of the project. SSOE was able to effectively integrate results from the InRoads site evaluation with the virtual building design model to arrive at a single 3D model reflective of both. The integrated design was presented to Toyota using NavisWorks 3D/4D Design Review software to clearly show where the earth moving would take place and how it would affect the overall design. SSOE was also able to utilize this software to develop a plan that would use the earth removed from one area to fill in areas requiring additional earth ensuring that none would have to be brought onto or taken away from the location. An emphasis was placed on minimizing the distance the earth had to be moved within the site in order to save time and money.
The 2.4-million-square-foot facility that will be constructed on the 1,700 acre site is expected to be operational by 2010 and house 2,000 employees. At a total cost of approximately $1.3 billion, the facility is expected to produce 150,000 vehicles per year and will include stamping, welding, painting and assembly.
SSOE has an array of expertise for engineering and designing the Toyota Blue Springs facility. A large portion of SSOE's Automotive and Industrial Facilities strategic business unit will be involved, and the chemical processes and wastewater treatment systems necessary for the facility will require specialized services from SSOE's Industrial Process group.
"Working with Toyota to design this plant is a great opportunity for us and will enhance our long standing relationship with them," said Craig Bowie, Senior Vice President of Automotive and Industrial Facilities. "SSOE has demonstrated the ability in past projects to work with Toyota to achieve the project goals in a timely fashion and in the end deliver a high quality facility on time and on budget."
https://www.ssoe.com/wp-content/uploads/2007/09/150x150_SSOE_toyota-assembly-plant-ready-for-construction.png
225
150
hitch
/wp-content/uploads/2018/05/logo_ssoe.png
hitch
2007-09-27 15:14:57
2018-07-12 15:55:46
Toyota assembly plant ready for construction after massive civil engineering work completed by facility designer SSOE