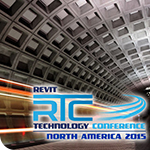 Two SSOE BIM Experts Presenting at the 2015 North American Revit® Technology Conference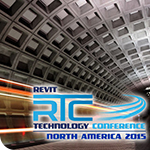 Washington, D.C., July 20, 2015 – SSOE Group (www.ssoe.com), a global engineering, procurement, and construction management (EPCM) firm, announced today that two BIM specialists from the company's Portland, Oregon, office will present at the fifth annual North American Revit Technology Conference at the Crystal Gateway Marriott in Washington, D.C., July 23 to 25, 2015.
On Friday, July 24, 2015, BIM / CAD Technical Specialist Brett Showers will present "Virtual Design & Construction and Revit: A Match Made in Client Heaven" In this class, Showers will help attendees identify some of the key elements of executing a successful Virtual Design and Construction (VDC) project within Revit and how to harness Revit's most basic features to create a design model directly used for fabrication and construction. Attendees will learn how to utilize shared parameters to create accurate BOM schedules for estimating, and tie design elements together from schematic design through fabrication. In addition, they will learn the advantages of having the project's construction team fully engaged throughout the design process
BIM / CAD Technical Leader Doug Nachtrieb will present "Integrating Complete Duct / Pipe Flow and Pressure Analysis Into Revit MEP" on Saturday, July 25, 2015. In this class, Nachtrieb will compare and contrast the workflows, calculation results and pros / cons of modeling identical systems in Revit MEP vs. a specialized 2D piping system modeling software that is recognized as an industry-accepted standard. Attendees will compare the results of modeling identical duct and piping systems in Revit MEP and PIPE-FLO®, determine what advantages / disadvantages each platform has to offer along with deciding if Revit MEP can be used as a stand-alone calculation platform for providing pressure and flow calculations for critical applications.
The North American Revit Technology Conference draws hundreds of attendees from the architectural, engineering, and construction worlds. Participants gain unique insights from some of the world's top BIM and Revit instructors and industry experts who offer innovative content and relevant insights into cutting-edge workflows and techniques critical to winning new work and staying competitive.
For additional information on the Revit Technology Conference, click here.
https://www.ssoe.com/wp-content/uploads/2015/07/150x150_SSOE_bim-experts-presenting-at-the-2015-north-american-revit-technology-conference.png
150
150
hitch
http://www.ssoe.com/wp-content/uploads/SSOE-1805-Reg-2.svg
hitch
2015-07-20 12:42:56
2018-07-11 15:17:47
Two SSOE BIM Experts Presenting at the 2015 North American Revit® Technology Conference