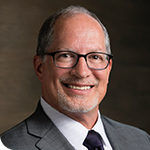 University of Toledo Honors CEO-Elect Vince DiPofi of SSOE Group as 2019 College of Engineering Distinguished Alumni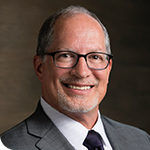 TOLEDO, Ohio, October 7, 2019 – SSOE Group (www.ssoe.com), a global project delivery firm for architecture, engineering, and construction management, announced today that Vince DiPofi, PE, CEO-Elect, was honored this past weekend as the University of Toledo's (UT) College of Engineering, 2019 Distinguished Alumni. Joined by members of SSOE's leadership team, fellow coworkers, and family and friends, he accepted the award on Friday, October 4, 2019 at the UT Alumni Association's Annual Homecoming Gala held in the Lancelot Thompson Student Union Auditorium. At the event each year, 15 outstanding graduates are honored—12 distinguished graduates from each of UT's colleges, as well as The Gold T, Blue T, and Edward H. Schmidt Outstanding Young Alum awards.
Vince, a 1985 graduate of UT's College of Engineering, was selected in June to be the next President and CEO of SSOE Group. In his previous capacity, Vince served as SSOE's Chief Operating Officer (COO) and Executive Vice President. This includes executive-level oversight of SSOE's Advanced Technology Strategic Business Unit (SBU); Healthcare, Commercial, and Education (HCE) SBU; Marketing and Business Development; and the Virtual Design and Construction (VDC) team. He has significant international experience, leading a turnaround of the China operation, starting SSOE's office in Mexico in 2014, and most recently creating an alliance in Europe for design of industrial facility projects.
Vince has more than 35 years of experience in the AEC industry, which began with his role as a college intern and drafter with the former AVCA Corp. in 1981. He joined SSOE in 2000 as Business Leader overseeing the firm's food group, which ultimately rose to an impressive #2 Food and Beverage Design Firm ranking (ENR). Vince was later named SBU Manager of the Food and Consumer Products (FCP) SBU and Principal of the firm in 2006.
As SSOE's Director of Business Development, Vince was—and continues to be—influential in fostering a client-centered culture within SSOE. He was instrumental in developing engineering alliance relationships with several of SSOE's top 10 clients and spearheaded the Value Promise program which has documented more than $1 billion dollars of savings for our clients since 2009.
Immediately prior to becoming COO, Vince served as SSOE's Chief Strategy Officer, acting as a key advisor to the CEO on the strategic direction of the firm. He has served as SSOE's Chairman of the Board and currently holds a position on the Board of Directors.
Vince holds a Bachelor of Science in Mechanical Engineering from the UT and is a licensed professional engineer in both Ohio and Michigan. He is active in the Toledo Society of Professional Engineers (a past Young Engineering of the Year recipient) and is on the Dean's Advisory Board for the College of Engineering at UT.
In response to the award, CEO-elect, Vince DiPofi stated, "The engineering education I received at the University of Toledo was second to none. It prepared me to perform engineering literally all over the world. To be recognized by the University in this way is humbling but also a great honor."
https://www.ssoe.com/wp-content/uploads/Dipofi_150x150.png
150
150
Jenni Roder
http://www.ssoe.com/wp-content/uploads/SSOE-1805-Reg-2.svg
Jenni Roder
2019-10-07 16:05:42
2019-10-07 16:05:42
University of Toledo Honors CEO-Elect Vince DiPofi of SSOE Group as 2019 College of Engineering Distinguished Alumni