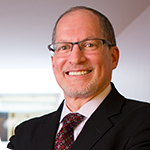 Vince DiPofi Named as the Next President and CEO of SSOE Group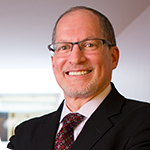 TOLEDO, Ohio, June 3, 2019 – SSOE's Board of Directors announced today that it has selected Vince DiPofi, PE, to be the next President and CEO of SSOE Group—a global project delivery firm for architecture, engineering, and construction management. Vince will replace current CEO, Bob Howell, who announced his plans to retire earlier this year.

"This succession was carefully planned to leverage Vince's proven strategic thinking to build upon Bob's history of success. We are excited about the growth opportunities that lie ahead as the AEC industry changes with technology and optimizes project delivery." commented Mike Murphy, SSOE's Chairman of the Board.
Vince, currently serves as SSOE's Chief Operating Officer (COO) and Executive Vice President. He brings more than 35 years of experience in the AEC industry, including significant international experience. Vince came to SSOE in 2000 as the Business Leader for SSOE's food group which eventually rose to a #2 ENR ranking. He was later named SBU manager of the Food and Consumer Products (FCP) SBU and a principal in 2006—eventually also serving tenures as SSOE's Director of Business Development and later Chief Strategy Officer. He has acted as SSOE's Chairman of the Board and currently holds a position on the Board of Directors.
Addressing employees, outgoing CEO Bob Howell remarked, "It's been a true privilege to lead this company over the course of the last five years and I'm eternally grateful for the trust and confidence you have placed in me during my tenure as CEO. SSOE has provided me with the opportunity to learn, grow, and further my career in ways I never imagined possible—demonstrating a rather remarkable aspect of SSOE's culture, founded by people like Al Samborn and something I focused heavily on as CEO. I have full confidence in Vince's experience, perspective, and leadership and that he will continue SSOE's legacy and position us for unparalleled growth many years into the future."
In response to the announcement, CEO-elect, Vince DiPofi stated, "I'm both humbled and honored to be selected as CEO of this great company. For a firm like SSOE, that has enjoyed continued success for over 70 years, the role of CEO is a great responsibility. I feel an obligation to my predecessors to build upon their contributions. Equally, I feel a responsibility to my successors, to leave a sustainable, vital company, positioned for whatever the future may hold. I'm confident in the entire SSOE team's ability to work together to continue this company's history of innovation and great client service."
Vince will officially become President / CEO of SSOE at the December 4, 2019 shareholder meeting. After December 4, Bob will continue in an advisory capacity to Vince and the Board as needed until his retirement in the first quarter of 2020.
For a full bio and a high resolution image of Vince DiPofi, click here.
For additional information on SSOE's history, click here.
https://www.ssoe.com/wp-content/uploads/2019/06/vince_dipofi_150x150.png
150
150
Jenni Roder
http://www.ssoe.com/wp-content/uploads/SSOE-1805-Reg-2.svg
Jenni Roder
2019-06-03 15:05:02
2019-06-04 09:25:31
Vince DiPofi Named as the Next President and CEO of SSOE Group