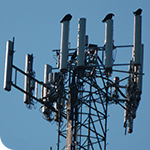 Above Ground Level Article: "How to Analyze Antenna Mounts to Avoid Costly Consequences"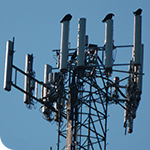 Michell Miller, PE, Structural Engineer at SSOE Group, and Ismaias Recinos, EI, Structural Designer, co-authored this article featured in Above Ground Level (AGL) Magazine. Miller and Recinos discuss the importance of accurately determining capacity on antenna mounts and suggest a proactive approach to reduce risk often caused by installation errors or deterioration. A full, hands-on mapping is visually confirming, revealing critical defects that could be easily missed with ground mapping, and provides detailed structural information that aids in the comprehensive analysis that follows.
The article recommends having a qualified A/E firm, such as SSOE, provide a certified analysis on mount structures, including an extensive report with relevant photos and deficiencies. Once mounts are assessed, an A/E firm can implement modifications to avoid costly—and sometimes fatal—consequences from occurring if load exceeds capacity.
To read the full article, click here.
https://www.ssoe.com/wp-content/uploads/2016/01/150x150_SSOE_above-grond-level-magazine-article_how-to-analyze-antenna-mounts-to-avoid-costly-consequences.png
150
150
Katie Junga
https://www.ssoe.com/wp-content/uploads/SSOE-1805-Reg-2.svg
Katie Junga
2016-01-05 09:11:10
2018-07-12 02:45:44
Above Ground Level Article: "How to Analyze Antenna Mounts to Avoid Costly Consequences"