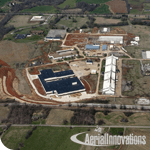 First Construction Phase Complete – Conversion of Vacant General Manufacturing Facility to FDA Regulated Production Facility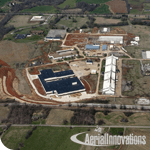 SSOE recently announced the first phase of construction for American Snuff Company's (formerly known as Conwood Company, LLC) manufacturing facilities in Clarksville, Tennessee has been completed. The manufacturing facilities are situated on a 193- acre brownfield site. The new facilities will allow American Snuff to increase capacity and achieve FDA compliance—a new requirement for its products.
Originally designed by SSOE in the 1970s, Union Carbide operated the existing facility for nearly thirty years, producing large carbon electrodes for the steel industry. In 2009, American Snuff purchased the site, with the plan of converting it into new processing facilities.
The facility will accommodate immediate and future manufacturing needs while transforming an idle general manufacturing environment to one that satisfies new FDA regulations for the industry.
SSOE's scope of services includes conceptual planning and budgeting; civil, architectural, structural, mechanical, electrical, and fire protection engineering services; as well as, procurement, cost control, scheduling, monitoring and reporting, and commissioning construction management services. SSOE anticipates completion of remaining sitework to be completed in 2011.
To achieve American Snuff's ambitious schedule, SSOE recommended construction sequencing (phased construction with multiple primes) to compress the project construction schedule by three months. Aggressive cost management and early identification of cost trends put the project on track to be delivered within budget.
SSOE was chosen by American Snuff for this project because of its expertise serving FDA-regulated industries and its site history. "We were excited to take on this project. The brownfield site had been abandoned for eight years, making it a challenge. Working at the site with the Client during the development phase, maintaining open communications and implementing a successful project management and delivery approach opened up another opportunity for SSOE at American Snuff's Memphis site," says SSOE's Dan Vining, PMP, Project / Construction Management Leader. SSOE is also providing EPCM services for American Snuff Company's Memphis, TN facility.
https://www.ssoe.com/wp-content/uploads/2010/04/150x150_SSOE_first-construction-phase-complete-conversion-of-vacant-general-manufacturing-facility.png
150
150
hitch
http://www.ssoe.com/wp-content/uploads/SSOE-1805-Reg-2.svg
hitch
2010-04-11 14:07:29
2018-07-11 18:06:49
First Construction Phase Complete – Conversion of Vacant General Manufacturing Facility to FDA Regulated Production Facility