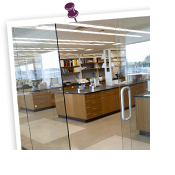 Fostering Scientific Excellence and Interaction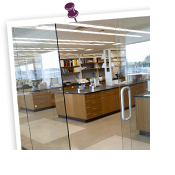 SSOE heard it loud and clear. "This is our world headquarters and we want to show it." It's a predictable requirement for the world headquarters of a global company; however it's not often that laboratories are the main focus of the space. Kemin, however, understood their laboratories were the best means to demonstrate to customers their passion for innovation.
Kemin, a global private company that develops ingredients for a broad range of industries, including food, personal care and nutraceuticals, has seven divisions – each with their own R&D team. The company owners recognized several potential advantages of consolidating the R&D teams in a single facility: more economical use of space, sharing of equipment, and the opportunity for collaboration. Having a facility where Kemin's world-class researchers could work together in the same space would support the company's goal of fostering creative interaction and the exchange of ideas.
Creating a Master Plan
The new headquarters would answer Kemin's  desire to consolidate under one roof and accomodate the company's rapid growth. Kemin decided to plan now for a campus that would accommodate the business 5-10 years into the future. With SSOE's assistance, the company projected they would need more facilities to house corporate administrative offices, a cafeteria and food service area, additional laboratory space, and production facilities. Kemin acquired adjacent land and SSOE, utilizing 3D modeling, developed several possible configurations to optimize the layout of future facilities considering the layout of the existing campus buildings.
Kemin's challenge to SSOE was to design a high profile building without a high price tag. They wanted a facility that conveyed the company's strong entrepreneurial spirit and ability to deliver, as the tagline says, "inspired molecular solutions." These objectives created the perfect opportunity for SSOE to come up with its own "inspired design solutions." The accepted option was a two-story, light-filled atrium at the main entrance that represented Kemin's bold, innovative brand. And when the time comes to execute the planned expansion, this space will serve as a central circulation hub that connects to the new administration building.
The Visitors' Experience
From this welcoming atrium, visitors are escorted to either the first or second floor laboratories. The design of these open, modular, light-filled areas allows visitors to walk through the space to observe and hear about the company's extensive range of research and analytical capabilities. The flow of visitor traffic follows a corridor that assures the safety of the visitors and maintains the controlled conditions required for various scientific tests.
Apart from public view, but with easy access from the main labs, are office spaces, specialty labs, conference rooms, and informal meeting areas. In addition, the new space includes three multifunctional pilot labs – controlled environments where small-scale production takes place. When not in use, these pilot labs can be easily adapted for equipment storage.
https://www.ssoe.com/wp-content/uploads/2014/05/150x150_SSOE_fostering-scientific-excellence-and-interaction.png
175
175
hitch
http://www.ssoe.com/wp-content/uploads/SSOE-1805-Reg-2.svg
hitch
2014-05-12 11:24:41
2018-07-11 17:06:44
Fostering Scientific Excellence and Interaction