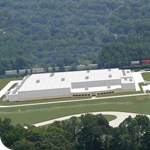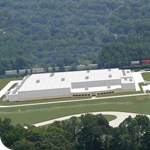 Anniston, Alabama, February 24, 2011 – SSOE Group (www.ssoe.com), an international engineering, procurement, and construction management (EPCM) firm, is currently providing full architectural and engineering design services and equipment migration design for a USACE-Mobile District project at Anniston Army Depot (ANAD) in Anniston, Alabama, involving a new world class manufacturing facility. The project's goal is to consolidate the transmission remanufacturing process for all of the tracked military vehicles it services.
SSOE's scope of services includes a design to support the relocation, installation, and point of use connections for more than 170 existing pieces of equipment from 13 buildings on the site. Additionally, more than 70 cranes, up to 10 dynamometers, and more than 30 pieces of new process machinery, both government and contractor furnished, will be integrated into the facility. SSOE is currently in the final design phase of the project and anticipates completion of the remaining sitework in 2011.
A project integral to national defense, the design adheres to the anti-terrorism force protection (AT/FP) standard for new government buildings. The facility, which is to be LEED Silver certifiable, supports all applicable energy sustainability standards, including a 30% decrease in existing energy use, sustainable solutions for grass and landscaping, and the incorporation of natural light and highly reflective materials to minimize heat gain.
SSOE's more than 60 years of experience working with U.S. and overseas-based automotive manufacturers and government regulations made it the firm of choice for this project. The firm ranks in the top four firms in automotive design (ENR 2010). "SSOE is honored to be involved in a project where our industrial plant design capability can be directly leveraged in support of the United States Army's mission related to the expeditious reconstitution of tracked vehicles," said Mike Duffey, PE, Director of Federal Programs for SSOE Group.
About SSOE Group
As the 12th largest engineering, architectural, and construction firm (Building Design + Construction), one of Inc. magazine's fastest growing firms (2010), and one of the "Best AEC Firms to Work For" (Building Design + Construction), SSOE Group focuses on delivering Great Client Service to clients through a full range of EPCM services.
With 23 offices around the world, SSOE is known for making its clients successful by saving them time, trouble, and money. Over the company's 60-plus year history, it has earned a reputation for providing quality design and construction solutions to food and consumer products, chemical, government, power, automotive, glass, healthcare, and science and technology industries. SSOE has completed projects in more than 30 countries. Visit http://www.ssoe.comfor additional information and career opportunities.
Media Contact:
Jenni Roder
419.351.6480 cell
419.255.3830 x1362
jroder@ssoe.com
https://www.ssoe.com/wp-content/uploads/2011/02/150x150_SSOE_anniston-powertrain-transmission-facility-reaches-final-design-phase.png
150
150
hitch
/wp-content/uploads/2018/05/logo_ssoe.png
hitch
2011-02-24 20:06:35
2018-07-11 20:07:24
Anniston Powertrain Transmission Facility Reaches Final Design Phase with the Help of SSOE Group