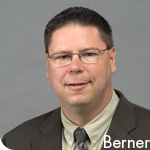 Berner and Thekdi of SSOE Earn Project Management Professional (PMP) Certification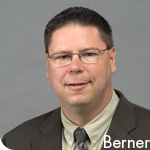 Toledo, OH, April 27, 2009 – SSOE, Inc., one of the nation's largest architecture and engineering firms, is proud to announce that Doug Berner and Ashok Thekdi have earned their certifications as Project Management Professionals (PMP). This certification, awarded by the Project Management Institute (PMI), signifies that Berner and Thekdi possess the knowledge and skill necessary to lead and direct project teams, and deliver project results within the constraints of schedule, budget, and resources.
Doug Berner, PE, PMP, Industrial Process Division Manager, has more than two decades of professional design experience within the chemical, refinery and industrial markets. Berner has been involved in all phases of engineering including process engineering, project engineering, project management and operations management. During the last five years, Berner has worked as a Sr. Project Manager on fast tracked, mega capital projects for chemical and energy clients. He received his Bachelor of Science Degree in Chemical Engineering from the University of Detroit.
Ashok Thekdi, PE, PMP, Senior Project Manager, has more than 35 years of project management and electrical engineering experience. Thekdi has extensive experience conceptualizing, assigning, and supervising design activities for teams of engineers, designers, and CAD operators for industrial and automotive projects. During the last four years Thekdi has worked as Senior Project Manager for pipeline and petroleum clients. Thekdi received his Master of Science Degree in Electrical Engineering from Old Dominion University, Norfolk, Virginia and his Bachelor of Science Degree in Electrical Engineering from Gujarat University, Gujarat, India.
About SSOE
SSOE, Inc. is an international design firm ranked 8th among the nation's largest engineering and architecture firms (Building Design + Construction, 2008). Demonstrating fast and consistent growth since 2004, SSOE has doubled in size and revenue. SSOE has also been named one of the "Best AEC Firms to Work For" (Building Design + Construction) and as one of the fastest-growing US architecture, engineering, and environmental consulting firms by ZweigWhite, Hot List 2008.
With 19 offices around the world, SSOE has earned a solid reputation in process engineering for the alternative energy, biofuels, chemical, food and beverage, glass and personal care industries as well as facility design for the healthcare, automotive and science and technology markets. SSOE has completed projects in 48 states and 32 countries, and has achieved more than 60 years of excellence in engineering and architectural design. Visit www.ssoe.com for additional information and career opportunities.
About PMI
The Project Management Institute is the credentialing body for project management professionals. The Institute's purpose is to advance the practice, science and profession of project management throughout the world in a conscientious and proactive manner so that organizations everywhere will embrace, value and utilize project management and then attribute their successes to it. PMI's credentials and professional development opportunities help business professionals start, build or advance their careers in project, program and portfolio management. Visit www.pmi.org for additional information.
Click on any of the links below to download a high resolution images for this release:
https://www.ssoe.com/wp-content/uploads/2009/04/150x150_SSOE_berner-and-thekdi-earn-pmp-certification.png
150
150
hitch
/wp-content/uploads/2018/05/logo_ssoe.png
hitch
2009-04-27 14:12:02
2018-07-12 15:14:47
Berner and Thekdi of SSOE Earn Project Management Professional (PMP) Certification