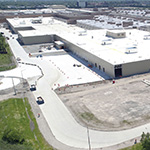 CAM Magazine Recognizes General Motor's Factory ZERO Project as an Outstanding Commercial Construction Project of the Year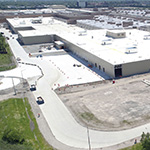 DETROIT, Michigan, November 14, 2022 – SSOE Group (www.ssoe.com), an internationally ranked architecture and engineering firm, is proud to be a part of General Motor's award-winning Factory ZERO Project recently named one of 12 Outstanding Commercial Construction Projects of the Year in Michigan by CAM Magazine. The Construction Association of Michigan (CAM) is a not-for-profit organization consisting of over 2,000 members, including general contractors, subcontractors, equipment and material suppliers, architects, engineers, and service firms.
The facility, initially built in 1985 and known as Detroit-Hamtramck, is the location of GM's new Factory ZERO, designed and constructed to manufacture the GMC Hummer Electric Vehicle (EV) pickup and SUV, Chevrolet Silverado EV, GMC Sierra Denali EV, and Cruise Origin—an electric, self-driving, shared vehicle. Construction on the design / build project began in April 2020, with a scope that included renovations of more than 3 million SF and additions of more than 863,000 SF. The facility is an exciting endeavor in the future of EVs, sustainability, and advanced manufacturing. The name "Factory ZERO" reflects the significance of this facility in advancing GM's zero-crashes, zero-emissions, and zero-congestion future.
Working with Walbridge on the design / build partnership, SSOE provided architectural and engineering services for the complete interior demolition and renovation of GM's 700,000 SF paint shop at the facility. SSOE also served as the architect of record for this renovation, performing a code study and supporting the design / build team. As part of the permitting process, SSOE worked with the City of Detroit's code officials and State Fire Marshal to be transparent regarding the proposed renovation and work through needed variances by providing required documentation and smoke studies.
SSOE supplied a Navis 3D model to the design / build team to coordinate and review the model in real time and work in a collaborative built environment. Areas of design included the following:
Paint shop area
Raised roof areas
Tank farm building addition
New substations
Truck dock / extension area
Restrooms and locker rooms within the plant
Complex projects are never without their challenges, and this one was certainly no different with a tight design schedule, concurrent start of construction, and coordination between multiple engineering firms and contractors. The team was prepared for changes despite the staggering nature of the scheduled construction plan in various areas of the plant. SSOE specializes in providing solutions to the intricate situations that can occur on these complicated, high-stakes projects.
"Our expertise in the automotive, chemical, and advanced technology markets, combined with our significant process experience, allows us to bring an unparalleled perspective to our EV and battery manufacturing clients' facilities. We understand the importance of establishing and maintaining the proper environmental conditions for hazardous material handling, cleanroom-type manufacturing environments, and spatial needs for assembly and production," stated SSOE's Dean Scheckelhoff, PMP, who served as the design project manager.
With a nearly 75-year history serving the automotive market, SSOE has been on the forefront of the transition to EV since 2016. The firm has worked with the world's largest and most innovative automotive and battery manufacturing companies to retrofit facilities for EV production, design and construct greenfield EV plants, and to support the battery manufacturing process at every point in the supply chain. SSOE is currently engaged in over 25 battery / EV projects in North America and has more than 18 million SF of battery plant design experience that extends throughout the battery lifecycle.
https://www.ssoe.com/wp-content/uploads/SSOE_gm-factory-zero_150x150.jpg
150
150
Jenni Roder
http://www.ssoe.com/wp-content/uploads/SSOE-1805-Reg-2.svg
Jenni Roder
2022-11-14 11:53:01
2022-11-14 11:59:09
CAM Magazine Recognizes General Motor's Factory ZERO Project as an Outstanding Commercial Construction Project of the Year