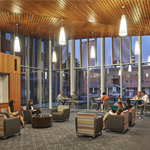 Clemson Core Campus Precinct Recognized by AIA South Carolina Chapter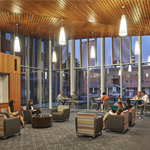 COLUMBIA, South Carolina, April, 24 2018, SSOE Group (www.ssoe.com), an internationally ranked architecture and engineering firm, announced today that the Clemson University Core Campus Precinct earned a 2018 Merit Design Award by the American Institute of Architects' (AIA) South Carolina Chapter (AIASC).
Following a 2002 Campus Master Plan decision to demolish and replace three major buildings in the middle of its main campus, Clemson University and SSOE set out to fundamentally reimagine the university's entire Core Campus Precinct. The design team, consisting of Stevens & Wilkinson, VMDO Architects and Sasaki, diligently worked to develop a clear and engaging vision for the Precinct's evolution. What came of this was a forward-looking approach to housing, academics, dining and student life programs combined into an intense, innovative and dynamic mixed-use center where current and prospective students can now connect with Clemson's traditions in a new and exciting contemporary atmosphere.
"The Core Campus Precinct project embodies all the aspects of the 'Clemson experience' and is one of the most complex higher education projects of its kind," said Ashby Gressette, AIA, principal at SSOE. "This new building has paved the way for other institutions to create similar spaces of this nature, and we look forward to seeing its influence in the higher education sector of our industry."
Comprised of nearly 286,000 square feet, with a construction cost of approximately $83 million, the Core Campus Precinct achieves the growing demands for contemporary housing and dining options. The primary goals for this project included capturing the best of the "Clemson experience;" advanced coordination of future projects outlined in the Campus Master Plan; creating a facility to enable recruitment and retention of students; and achieving LEED Silver Certification, which U.S.G.B.C. confirmed the project accomplished late last year.
The purpose of the Design Awards program is to encourage and recognize distinguished architectural achievement, to honor architectural teams, their clients and consultants who work together to improve the built environment, and to demonstrate and raise public awareness of the architect's role in shaping the quality of life through superior design.
AIASC announced this year's award recipients at their annual Design Conference in conjunction with ArtFields, a renowned nine-day art competition. Held in the small town of Lake City, S.C., the conference began on April 18 and ended on Friday, April 20. This year's theme, Community: By Design, focused on the power of art and design in creative place-making, especially as it pertains to small rural communities.
SSOE greatly contributed to the success Lake City has experienced over the last decade by designing the projects that helped ArtFields come to life, projects including the National Bean Market Museum where the ceremony for this year's Design Awards was held. In addition to the National Bean Market Museum, SSOE also worked on the following projects in Lake City: The Ragsdale Museum, Jones Carter Art Gallery, Village Green, the Ronald E. McNair Science Park and Life History Center, Imperial Building, and Comfort Stations.
https://www.ssoe.com/wp-content/uploads/clemson_150x150.png
150
150
Hannah Lee
http://www.ssoe.com/wp-content/uploads/SSOE-1805-Reg-2.svg
Hannah Lee
2018-04-24 10:44:08
2022-09-22 11:08:26
Clemson Core Campus Precinct Recognized by AIA South Carolina Chapter