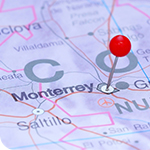 Internationally Ranked Design Firm, SSOE Group, Opens Second Office in Mexico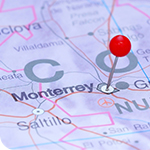 MONTERREY, Mexico, May 29, 2015 – SSOE Group (www.ssoe.com), ranked 12th internationally among Engineering Firms (Building Design + Construction, 2014), announced today that they have opened an office in Monterrey, Nuevo León, Mexico—their second office in the country. SSOE's first office was opened in early 2014 in the city of León, Guanajuato, Mexico to support the region's growing automotive manufacturing base. The addition of the Monterrey office will allow SSOE to better serve for our current food and automotive clients located in Saltillo, Ramos Arizpe, Monterrey, and surrounding areas, with a closer geographical concentration of resources. It is the second office SSOE has launched to serve the growing industrial investment in North America in as many months.
SSOE's Monterrey office will be led by Mexico Business Leader Erick Kuri, who has significant in-country experience as a manager and engineer, with project experience spanning nearly 15 years and virtually every automotive plant in Mexico. Kuri has extensive project experience in the automotive industry with clients such as Ford, GM, Chrysler, Toyota, and Nissan in dozens of cities throughout the Mexican industrial corridor. In addition, he has knowledge and experience with food clients such as Coca-Cola, Amcor Pet Packaging, Bimbo, Cerveceria Cuauhtémoc Moctezuma, among others.
"The success of the León office over the last 15 months has been phenomenal. Since opening the doors early last year we have been able to nearly double our in-country revenue. We've accomplished this by establishing strong relationships with manufacturers locating in Mexico and having the staff in place to support their ongoing operations once established. The Monterrey office will give us the opportunity to enhance our ongoing support of manufacturers in northern Mexico." stated Erick Kuri, Mexico Business Leader.
SSOE has a 20-year history of performing work for clients in Mexico including, most recently, the construction of a 1.9 million SF assembly plant in Aguascalientes for Nissan where we provided comprehensive planning, design, and construction support. SSOE's experience in Mexico reaches well beyond the automotive market. Their food portfolio in Mexico is extensive and includes projects for clients such as ConAgra, Nestle, and Hershey.
SSOE also recently established operations in Atlanta, Georgia further enhancing our ability to meet the demands of the growing number of U.S. and international firms looking to make North America home.
SSOE Group – Monterrey
Batallón de San Patricio #109 11th Floor
Valle de Oriente
San Pedro Garza Garcia 66260
México
Local Contact:
Erick Kuri
Business Leader
+52 (81) 8625 6816 office
+52 (81) 8625 6599 fax
Monterrey, México, 29 de mayo 2015 – SSOE Group (www.ssoe.com), clasificada internacionalmente en el la posición número 12 de Empresas de Ingeniería (Edificio Diseño + Construcción, 2014), ha anunciado hoy que ha abierto una nueva oficina en Monterrey, Nuevo León, México- Su segunda oficina en el país. La primera oficina de SSOE en México se inauguró a principios de 2014 en la ciudad de León, Guanajuato, México para apoyar al creciente sector automotriz en la región. La adición de la oficina de Monterrey permitirá a SSOE brindar un mejor servicio a sus clientes del sector alimenticio y clientes automotrices ubicados en Saltillo, Ramos Arizpe, Monterrey y sus alrededores, con una concentración geográfica más cerca de sus recursos. Es la segunda oficina que SSOE ha puesto en marcha para servir a la creciente inversión industrial en América del Norte.
La Oficina en Monterrey de SSOE estará encabezada por el Líder de Negocios en México Erick Kuri, quien tiene una vasta experiencia en el país como gerente e ingeniero, con experiencia en proyectos que abarcan casi 15 años y en prácticamente todas las plantas automotrices en México. Kuri tiene una amplia experiencia en proyectos de la industria automotriz con clientes como Ford, GM, Chrysler, Toyota y Nissan en decenas de ciudades de todo el corredor industrial de México. Además, tiene el conocimiento y la experiencia de haber colaborado con clientes del sector alimenticios tales como Coca-Cola, Amcor Pet Packaging, Bimbo, Cervecería Cuauhtémoc Moctezuma, entre otros.
"El éxito de la oficina de León en los últimos 15 meses ha sido fenomenal. Desde que abrió sus puertas a principios del año pasado hemos sido capaces de duplicar las ventas. Hemos logrado esto mediante el establecimiento de relaciones sólidas con nuestros clientes localizados en México y de tener el personal en sitio para apoyarlos durante la puesta en marcha de sus operaciones. La oficina de Monterrey nos dará la oportunidad de mejorar nuestro continuo apoyo a los fabricantes en el norte de México. " Erick Kuri, México Líder de Negocios.
SSOE tiene una historia de 20 años en la realización de trabajos para clientes en México, incluyendo, más recientemente, la construcción de una planta de montaje de 1,9 millones en Aguascalientes para Nissan, donde proporcionamos la planificación integral, el diseño, y el apoyo de la construcción. La experiencia de SSOE en México va mucho más allá del mercado automotriz. La cartera en el sector alimenticio en México es muy extensa e incluye proyectos para clientes como ConAgra, Nestlé y Hershey
SSOE inicio recientemente operaciones en Atlanta, Georgia mejorando aún más nuestra capacidad de satisfacer las demandas del creciente número de estadounidenses y firmas internacionales que buscan hacer de Mexico su casa.
SSOE Group – Monterrey
Batallón de San Patricio #109 11th Floor
Valle de Oriente
San Pedro Garza Garcia CP 66260
México
Contacto:
Erick Kuri
Business Leader
+52 (81) 8625 6816 office
+52 (81) 8625 6599 fax
https://www.ssoe.com/wp-content/uploads/2015/05/150x150_SSOE_internationally-ranked-design-firm-opens-second-office-in-mexico.png
150
150
hitch
http://www.ssoe.com/wp-content/uploads/SSOE-1805-Reg-2.svg
hitch
2015-05-29 13:55:16
2020-06-18 15:42:41
Internationally Ranked Design Firm, SSOE Group, Opens Second Office in Mexico