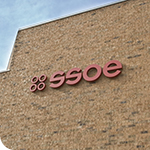 Pickerel of SSOE Group Earns American College of Healthcare Architects (ACHA) Board Certificate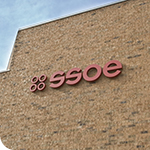 TOLEDO, Ohio, August 27, 2015 – SSOE Group (www.ssoe.com), a global engineering, procurement, and construction management (EPCM) firm, is proud to announce that Craig Pickerel has earned his Board Certificate in healthcare architecture from The American College of Healthcare Architects (ACHA).
Craig Pickerel, AIA, ACHA, LEED AP BD+C, EDAC, an Architect and Section Manager at SSOE, recently passed an accredited examination following approval of a portfolio application and relevant experience, which assesses the knowledge and understanding of architects who practice as healthcare specialists. He joins the ranks of over 400 ACHA colleagues in the U.S. and Canada who have received this important architectural credential.
ACHA requires its certificate holders to work towards the improvement of healthcare architecture on behalf of the public, to practice in an ethical manner, and to maintain the highest standards in the specialized field of healthcare architecture.
Pickerel has 11 years of experience with SSOE and has been an integral part of numerous healthcare projects throughout his career. Recent projects include the St. Luke's Hospital Master Facilities Plan and Emergency Department renovation, ProMedica Bay Park Hospital's New Intensive Care Unit, ProMedica Fremont Memorial Hospital Cancer Center, and Toledo Hospital's New Endoscopy Suite. In addition, he's been published in several publications including Building Operating Management, Healthcare Design, and Medical Construction and Design.
Pickerel holds a Master of Architecture degree from the University of Michigan and an undergraduate degree in architectural and environmental design from Bowling Green State University. Pickerel is accredited by the United States Green Building Council (USGBC) for leadership in energy and environmental design (LEED®), and was one of the first to receive an Evidence-based Design Accreditation and Certification (EDAC) from The Center for Health Design.
https://www.ssoe.com/wp-content/uploads/2015/08/150x150_SSOE_pickerel-earns-american-college-healthcare-architects-board-certificate.png
150
150
hitch
http://www.ssoe.com/wp-content/uploads/SSOE-1805-Reg-2.svg
hitch
2015-08-27 15:07:45
2018-07-11 15:15:05
Pickerel of SSOE Group Earns American College of Healthcare Architects (ACHA) Board Certificate