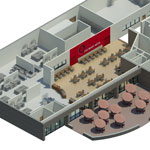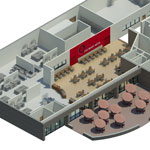 TOLEDO, Ohio, December 18, 2012 — SSOE Group (www.ssoe.com), a global engineering, procurement, and construction management (EPCM) firm is proud to announce their selection for professional services on four higher education projects in the state of Ohio. SSOE will provide architectural, engineering, data / fire / security, and LEED services for projects at Bowling Green State University, Northwest State Community College, Owens Community College, and The University of Toledo. Project scopes range from renovation of existing structures to building additions and a complete new building design program.
At Bowling Green State University's (BGSU) main campus, SSOE has been selected to provide design and construction administration services for the new State of Ohio Bureau of Criminal Investigation (BCI) Facility. The facility will meet  the State's need for forensic and investigation labs, firearms / tool analysis and firing range, evidence storage, vehicle investigation bays, and administrative office space while providing adjacent educational classroom and learning space for BGSU students and faculty.
The building will be designed in pursuance of LEED Silver certification and follow all Americans with Disabilities Act (ADA) requirements for new buildings. SSOE will serve as the project lead, providing multi-discipline engineering services and will work closely with MWL Architects for overall design and aesthetic characteristics of the building.
SSOE has also been selected to provide comprehensive design services for interior renovation and 14,000 SF addition to the existing Engineering Building at Northwest State Community College (NSCC) campus. This project will transform the space into a new Advanced Manufacturing Training Center and will include interior renovations to existing laboratory spaces, classrooms, and office suites as well as upgrades to the building's HVAC, electrical systems, and security access. The two-story building addition will also house new department offices, computer labs, automotive educational lab space, classrooms, and study areas for students.
Owens Community College (OCC) has selected SSOE for two major interior renovations to their Heritage Hall facility. The first renovation consists of transforming an existing 35,500 SF high-bay automotive and mechanical technology area into a state-of-the-art academic instructional area. In addition, SSOE will be renovating the existing 9,500 SF lounge area within the south wing of Heritage Hall to accommodate OCC's new Culinary Arts program. The design for this space will include culinary instructional labs, student-operated kitchen and restaurant, as well as indoor and outdoor seating areas.
Last but not least, the SSOE team has been selected to convert The University of Toledo's existing Veterans Administration building to a new Family Health Services Center. This project includes a complete renovation of the building interior to accommodate spaces for pediatrics, family medicine, internal medicine, and OBGYN clinics as well as an x-ray and testing laboratory. To complete the renovation, SSOE will review and execute modifications to the building's exterior, utilities and building systems, entryways, patient drop-off areas, and perform upgrades the HVAC and electrical systems. Additionally, SSOE will incorporate their data / fire / security specialists to revamp the building's security systems and access control.
https://www.ssoe.com/wp-content/uploads/2012/12/150x150_SSOE_design-contracts-on-higher-education-projects-for-four-institutions.png
150
150
hitch
/wp-content/uploads/2018/05/logo_ssoe.png
hitch
2012-12-18 15:58:09
2018-07-11 17:22:27
SSOE Awarded Design Contracts on Higher Education Projects for Four Institutions