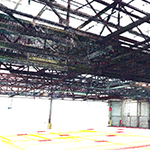 SSOE BIM Expert Mark LaBell to Present on Laser Scanning at the Spring BIMForum 2016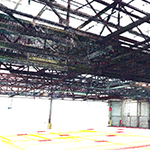 MINNEAPOLIS, Minnesota, April 8, 2016 – SSOE Group (www.ssoe.com), a global engineering, procurement, and construction management (EPCM) firm, announced today that Senior VDC Technical Leader, Mark LaBell Jr. will speak at this spring's BIMForum: BIM and the Built Environment, to be held on April 20 & 21at the Hyatt Regency Minneapolis.
"One Firm's Journey in Laser Scanning, from Denial to Leading the Charge" will detail the cultural shift of reliance on as-built documents and field verification to the utilization of laser scanning on all major retrofit projects. LaBell will present case studies to illustrate different use examples and the associated project savings — or in the case of not scanning, potential losses — based on the scope of the project. Anecdotal evidence will be focused on staff frustrations and misunderstanding of what really could or couldn't be done, lack of training, and challenging the norm of our industry. A discussion of how to plan the project's scanning uses including an RFP and RFQ for scanning vendors will be highlighted as well as necessary information for scanning specifications. Lastly, he will discuss how SSOE coordinates data hand-offs to the entire project team including contractors, sub-contractors, and the owner to ensure the team is working from a simplified existing conditions model. This class is scheduled for Wednesday, April 20th at 2:00 p.m. For more information on this session or to register for the conference, click here.
Mark LaBell has a passion and unparalleled dedication for the practice of VDC methods in the AEC industry. He has served as a user and customization expert in 3D BIM/CAD software for over 15 years and provides support and training for users to educate individuals on how to maintain a sound and practical user environment. Always looking for the next best thing, whether process improvement, software, or hardware when it comes to practical design and user experience, LaBell has learned that there is never a "one-sized fits all" approach no matter what the client requirements dictate. He received his Bachelor of Science in Computer Aided Design and Manufacturing from Eastern Michigan University and works in SSOE's Toledo, Ohio office.
BIMForum's mission is to facilitate and accelerate the adoption of building information modeling (BIM) in the AEC industry. The BIMForum meets twice yearly, with significant growth in participation since its inception. Influential BIM solution providers are involved in these highly interactive programs. The Spring BIMForum will explore how architects, engineers, and builders use BIM to create and use data in new and sophisticated ways to improve the methods of designing and constructing structures for and within the Built Environment.
https://www.ssoe.com/wp-content/uploads/2016/04/150x150_SSOE_bim-expert-mark-labell-to-present-on-laser-scanning-at-the-spring-bimforum-2016.png
150
150
hitch
http://www.ssoe.com/wp-content/uploads/SSOE-1805-Reg-2.svg
hitch
2016-04-08 16:12:03
2018-07-11 14:54:09
SSOE BIM Expert Mark LaBell to Present on Laser Scanning at the Spring BIMForum 2016