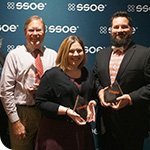 SSOE Group Announces 2018 Founder's and Leadership Award Recipients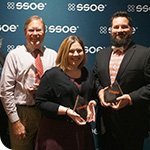 TOLEDO, Ohio, December 20, 2018 – SSOE Group (www.ssoe.com), a global project delivery firm for architecture, engineering, and construction management, announced today that two project teams have been selected as recipients of the firm's Founder's Award and five individuals have been selected as recipients of Leadership Awards.
Initiated in 2008, the SSOE Founder's Award recognizes, rewards, and reinforces exemplary execution of SSOE's core principles—innovation through quality improvements and value-added solutions, differentiation that delivers great client service, and diversification through entrepreneurism. The selection committee chose honorees who distinguished themselves by delivering the ideal "SSOE experience".
One project team provided architectural and engineering services to Henry Ford Health System for the complex installation of the world's first FDA approved commercially available linear accelerator (LINAC) based, magnetic resonance imaging (MRI) guided radiation therapy system, the ViewRay MRIdian LINAC / MRI system. Recently installed at Henry Ford's Medical Center – Cottage in Gross Pointe Farms, Michigan, it is the first in the world to offer patients an advanced radiation therapy with real-time MRI and LINAC delivery for more precise and accurate radiation treatment. This new technology provides the capability to simultaneously use diagnostic imaging with the MRI component and LINAC radiation treatment. In addition, the advanced MRI imaging will help Henry Ford physicians provide greater accuracy in delivering radiation to a cancerous tumor. Employees receiving awards were: Tony Doemer, Project Designer; Jeff Falzon, RA, NCARB, Sr. Architect / Project Manager; Pete Wilson, Mechanical Design Lead; Bryan Lassen, Designer; and Kim Hurley, Project Controller. Learn more about this project here.
From project opportunity to job award through ongoing day-to-day engineering design, construction, and safety, this project team has embodied the very principles on which Alfred H. Samborn founded SSOE—quality, client service, and entrepreneurship. With a Western approach to a Chinese project and potential the client saw in SSOE's value promise, a semiconductor manufacturer selected SSOE for owner's representative services. Collaborative efforts between SSOE and client engineers have yielded more than $7 million in Value Promise savings and the project is still ongoing. Cost savings stem from right sizing utility piping, eliminating a raised floor in design, optimizing HVAC to eliminate a fan filter unit, electrical cable size reduction, and more. SSOE's experienced team and use of new technology (BIM360 Field) have also made this project noteworthy. Employees receiving awards for their work on this project were: Lincoln Kong, Senior Account Executive; Gavin Ding, Senior Project Manager; Jason Yang, Construction Manager; Jianqing Qin, China Operations Manager; and Aaron Liao, Safety Engineer.
SSOE Leadership Awards are given out to recognize, reward, and reinforce leadership in the execution of projects that directly benefits SSOE's business.
Rick Fox, PMP, Senior Project Manager was awarded a 2018 Leadership Award due to his leadership in account growth and revenue generation. Rick Fox has consistently demonstrated his ability to leverage his talents and credibility to win new business and to lead the delivery of successful projects / programs across SSOE's client base. While doing so, he actively assists others to step into new roles by accepting new responsibilities and he routinely functions as a champion for use of new technologies or delivery methods.
Ed Royzman, PE, Senior Account Executive, and Erick Kuri, Mexico Operations Manager, both earned Leadership Awards for playing critical roles in the development of SSOE's relationship with Walmart in Mexico. Over the past year, under the leadership of Ed and Erick, SSOE Mexico has won three significant distribution center projects, allowing the client to strengthen and expand its logistics operations, with the goal of reducing time and costs in the supply process.
Carrie Hitchner, Manager, Marketing & Communications, received a Leadership Award for her agility and excellence in project and people management. Carrie was presented with the prospect of taking on management of a group for which she had little experience all while taking on an website redesign project that was already assumed to be a substantial addition to her workload. Not only did management of the group not suffer, it flourished. She engaged in staff development, instituted regular meetings to ensure the two departments within marketing were collaborating, implemented a system for bringing consistency to boilerplate materials, and led a team to streamline knowledge / documented management of proposal materials.
Brian Watko, PMP, Project Manager, received a Leadership Award for his diligence and follow-through to overcome challenges with project financials for two significant projects. Brian's attention to detail, impressive grasp of complex project financials, and successful communication method ensured a positive financial result, improved team morale, and an improved client experience.
Awards were presented at SSOE's December Stockholder's Meeting where each honoree received a SSOE Founder's Award or Leadership Award as well as a monetary award for their extraordinary accomplishments.
https://www.ssoe.com/wp-content/uploads/2018/12/HenryFordMRI150x150.jpg
150
150
Jenni Roder
http://www.ssoe.com/wp-content/uploads/SSOE-1805-Reg-2.svg
Jenni Roder
2018-12-20 10:09:47
2018-12-20 12:03:06
SSOE Group Announces 2018 Founder's and Leadership Award Recipients