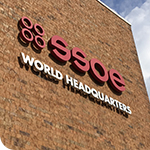 SSOE Group Announces Appointment of New Principals and Promotions for Planning Year 2020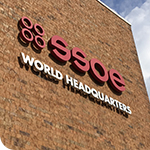 TOLEDO, Ohio, October 29, 2019 – SSOE Group (www.ssoe.com), a global project delivery firm for architecture, engineering, and construction management, announced today the appointment of new Principals and organization promotions for their planning year (PY) 2020.
SSOE's Board of Directors named Greg Brogley, Raul Estrada, and Mike Pollock as principal owners of SSOE.
Greg Brogley, PE, PMP, is Division Manager of SSOE's Automotive & Manufacturing Facilities (AMF) Strategic Business Unit (SBU). Greg joined SSOE in 1998 and has a proven track record of ensuring project due diligence, responsiveness to clients, and driving teams to evaluate their process to maximize value and efficiency into the projects he oversees. His overall responsibilities include the direction of industrial facility engineers and architects, as well as direction of the business unit with respect to administration and operation of all manufacturing client projects. His professional engineering career includes experience with project management and civil engineering. Greg received his Bachelor of Science in Civil Engineering from the University of Toledo and is a registered Professional Engineer (PE). In 2009, Greg received his Project Management Professional (PMP) certification.
Mike Murphy, Senior Vice President and Chairman of SSOE's Board stated, "Our AMF business unit had a strong second half performance in PY19 and one of the individuals who was key to that growth based on his ability to build client relationships and bring in new work, was Greg Brogley. We are pleased to announce that Greg has been named a Principal."
Raul Estrada, Jr., PMP, is Division Manager of SSOE's Advanced Technology (AT) SBU Tool Install group. Raul joined SSOE in 2013 and has over 27 years of global tool install experience specific to the semiconductor industry. He approaches work with a friendly, positive attitude, and has a penchant for detail that has earned him service awards from multiple clients. In addition to providing technical supervision and direction of project team members, he is responsible for U.S. and International coordination and completion of all tool install projects. Raul has developed innovative methods for schedule reduction and process improvements, some of which have become new standards on tool install projects. Raul studied mechanical engineering at New Mexico State University and is a certified Project Management Professional (PMP).
Murphy added, "Raul has led SSOE's tool install team to their best year ever, and was a key factor in the success of our AT SBU over the past few years. His growth as a leader has been evident to all. We're excited to welcome Raul as a Principal."
In addition to Raul, two other AT professionals have been promoted for their high performance:
Jeremy Woodgate, Sr. VP and Advanced Technology (AT) SBU Manager
Brett Susany, Sr. VP, Program Management – Basebuild
Mike Pollock, PE, is a Division Manager for SSOE Systems, the firm's construction management business. He started with SSOE in 2016, and has nearly 35 years of experience in glass and chemical manufacturing—along with consulting experience—serving in various roles from process and product design, directing a global engineering group, leading manufacturing operations, and serving as Project Director for numerous large-scale capital projects. Mike has been responsible for building several plants around the world, including the design and launch of the process lines within the sites. Mike earned a Bachelor of Science in Mechanical Engineering from the University of Akron and is a registered Professional Engineer (PE).
"SSOE Systems is projecting a record year for PY20. Mike Pollock's leadership both internally and externally with clients, has been a major factor in building the foundation for that growth. In recognition of his performance, the board is happy to name Mike a Principal," continued Murphy.
Other organization promotions include Brandon Darroch, PMP who has been named SSOE's Southeast Division Manager and office manager for the firm's Nashville, Tennessee office. Additionally, Mike Murphy and Catherine Myers have both been promoted to Executive VP and COO—Murphy to oversee SSOE's AMF; Energy, Glass, Chemical, and Manufacturing (EGCM); and Food and Consumer Products (FCP) SBUs and Myers responsible for SSOE's Advanced Technology (AT); Healthcare Commercial, Education (HCE); and the firm's construction management business.
https://www.ssoe.com/wp-content/uploads/2018/08/150x150_SSOE_appointment-of-four-new-principals.png
150
150
Jenni Roder
http://www.ssoe.com/wp-content/uploads/SSOE-1805-Reg-2.svg
Jenni Roder
2019-10-29 17:16:04
2020-01-30 14:44:09
SSOE Group Announces Appointment of New Principals and Promotions for Planning Year 2020