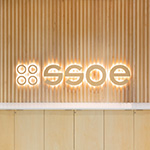 SSOE Group Announces the Appointment of New Board Members, Principals, and Promotions for Planning Year 2023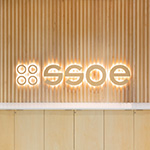 TOLEDO, Ohio, December 13, 2022 – SSOE Group (www.ssoe.com), an internationally ranked architecture and engineering firm, celebrates the election of new members to the firm's Board of Directors, the appointment of four new principal owners, and two promotions to Vice President within the organization.
In 2021, SSOE announced the expansion of its Board of Directors which is responsible for setting the firm's overall direction and protecting shareholder interests. As part of this expansion, SSOE welcomes Jeanne Cormier as a new outside director to its board. She was elected by SSOE shareholders for her unique industry perspective and diverse background. Jeanne retired in December 2021 from a 34-year career with 600-person H.W. Lochner, Inc. (Lochner), where she rose to the role of CEO / President, a title that she held since 2017. As CEO, she spearheaded numerous efforts to improve the operational health of the organization with results that tripled net earnings from $3.4 million in 2017 to $10.7 million in 2021. Read more about Jeanne and other SSOE leaders here.
Executive Vice President and newly elected Chair of the Board, Matthew Oberts, PE, PMP, commented, "We are extremely pleased to have Jeanne join our Board. Her strong commitment to client satisfaction and people-oriented leadership style fits well with the culture of our organization and we're excited to tap into her experience in areas such as change management and mergers and acquisitions." Oberts continued, "Our outside directors play a key role in bringing diverse insight and perspective into our company which is invaluable in the dynamic business environment we operate in today."
In addition to Jeanne, the following individuals have been elected to SSOE's Board of Directors:
Doug Goare (Returning) – Outside Director
Jeremy Woodgate, PE, SE – Executive Vice President, Advanced Technology, Board Secretary
The Board also appointed Adrienne E. Taylor, PE, Senior Associate as Board Observer. William (Bill) Kussro, PE, SE, current Board Observer, will continue his term until December 2023.
Board Members Continuing in Office:
John Pemberton – Outside Director
Catherine Myers, PE – President
Matthew Oberts, PE, LEED AP – Executive Vice President, Chair of the Board
Lori M. Gillett – Outside Director
Robby C. Aull, AIA – Senior Vice President
Michael A. Murphy – Executive Vice President
Brett E. Susany – Senior Vice President
Ronald V. Stang, Jr., AIA – Senior Vice President
Vince DiPofi, PE – Chief Executive Officer
SSOE also announced the addition of four new principals. SSOE's CEO Vince DiPofi, PE, offered his congratulations stating, "I'm extremely thrilled to welcome Brian Kleman, Bill Kussro, Carey Russell, and Brian Watko as principal owners of SSOE. Each of them has demonstrated exceptional leadership, made significant contributions over the years, and are drivers of the business. Principal ownership within the firm not only represents a financial stake, but it also reflects the passion, dedication, and commitment that each of these individuals has for SSOE."
Brian Kleman, Principal Division Manager, joined SSOE in 2011 performing process engineering for SSOE's Energy, Glass, Chemical, and Manufacturing Strategic Business Unit (SBU). In 2015, Brian was promoted to the role of Project Manager and in 2017, he became the Division Manager of SSOE's Glass and Manufacturing groups. Brian holds a Bachelor of Science in Construction Engineering Technology from the University of Toledo and an Associate of Applied Science in Civil Engineering Technology from Owens Community College. He works out of SSOE's Toledo, Ohio office.
Bill Kussro, PE, SE, P.Eng., LEED AP BD+C, Principal Master Engineer, joined SSOE in 2018 and today leads the firm's Structural Practice Group. Throughout his career at SSOE, Bill has become known for his technical leadership, prowess, progressive thinking, and ability to implement change. He is active in the Structural Engineering Community of Practice and sits on several Building Code and Standards Advisory Boards for the structural discipline outside the firm. In Bill's current position, he is responsible for the overall direction of structural engineering resources across the company. He serves as champion of technical training and sharing best practices across the structural discipline, ensuring the collective knowledge of department resources is being fully leveraged. He holds both a Bachelor and Master of Science in Civil / Structural Engineering from Michigan State University and is a licensed Civil and Structural Engineer in multiple states and Canadian provinces. Bill works out of SSOE's Troy, Michigan office.
Carey Russell, PE, Principal Division Manager, joined SSOE in October 2015 as a Project Manager for the Advanced Technology Basebuild group. She became a Section Manager of the PMA / PC team and began taking on more of an operations role in 2018 with oversight of both project delivery workflows and project finances. Prior to joining SSOE, she held positions at Evergreen EDC and Fluor Daniel in engineering as well as project management. Carey is a professional engineer and holds a Bachelor of Science in Structural Engineering from the University of California, San Diego. She works out of SSOE's Hillsboro, Oregon office.
Brian Watko, PMP, Principal Division Manager, joined SSOE in 2013 as a Project Manager for the Advanced Technology group. In 2017, he became a Department Manager and in 2020, Brian was promoted to Division Manager of SSOE's Tool Install operation. In this role, he has led a multi-discipline team through innovation and efficiency efforts, including the creation of a planner tool that serves as a staff planning and financial database. Brian holds a Bachelor of Science in Management / Information Systems from George Fox University and an Advanced Project Management Certificate from Portland State University. He obtained his Project Management Professional certification in 2011. Brian works in SSOE's Hillsboro, Oregon office.
In addition to these four principal appointments, two other SSOE professionals have been promoted to Vice President within the organization.
Mike Newman, Vice President, Division Manager, serves as the High-Tech Division Manager within SSOE's Advanced Technology (AT) operation. He joined SSOE in 2019 with over 20 years of experience supporting the semiconductor and technology industry. While being a strong proponent of eliminating waste, the Theory of Constraints (ToC), and the Toyota Production System (TPS), Mike is actively working on simplifying the project delivery model to improve value to the client. In addition to his work on the operations side, he has successfully led the effort to significantly add and diversify the AT client base. Mike earned a Bachelor of Science in Industrial and Mechanical Engineering from Oregon State University and is a certified Project Management Professional. He works out of SSOE's Hillsboro, Oregon office.
Todd Dolson, AIA, Vice President, Director of Design, has over two decades of architectural experience in higher education and civic practice and came to SSOE in 2020 through the firm's acquisition of Stevens & Wilkinson. Todd has a passion for creating places and spaces that address client goals and objectives. He specializes in the design of academic and public libraries, classroom and learning environments for higher education, museums, and civic and corporate environments. As Director of Design, Todd promotes and supports the overall quality of design across the firm's architecturally-led projects. Todd has a Bachelor of Science in Architecture from Georgia Tech and works out of SSOE's Atlanta, Georgia office.
https://www.ssoe.com/wp-content/uploads/ssoe_150x150.jpg
150
150
Jenni Roder
http://www.ssoe.com/wp-content/uploads/SSOE-1805-Reg-2.svg
Jenni Roder
2022-12-13 10:00:18
2022-12-13 12:59:02
SSOE Group Announces the Appointment of New Board Members, Principals, and Promotions for Planning Year 2023