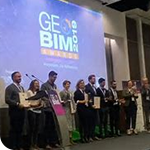 SSOE Group Honored for 'Leadership in Digital Innovation' at GEOBIM Conference in Amsterdam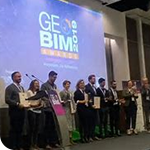 AMSTERDAM, Netherlands, November 19, 2019 – SSOE Group (www.ssoe.com), a global project delivery firm for architecture, engineering, and construction management is proud to announce that they have been honored for 'Leadership in Digital Innovation' at the GEOBIM 2019 Awards. The awards banquet was held in Amsterdam, the Netherlands, during the GEOBIM 2019 conference and award recipients were announced on November 11, 2019.
The GEOBIM 2019 conference is an exclusive platform for the Architecture, Engineering, and Construction (AEC) Industry, Geospatial, and BIM community. The GEOBIM awards exist to recognize and celebrate organizations who continue to perform par excellence by implementing digital technologies across the construction workflow.
Tony Sabat, Project VDC / BIM Specialist at SSOE, who was also a featured speaker at the conference, accepted the award that was presented to the firm. SSOE was honored for their skill and knowledge in using high-definition terrestrial and drone laser scanning methods to successfully deliver a complex project with a very constrained timeline without error. View the interactive project profile here.
In response to the award, SSOE's CEO-Elect, Vince DiPofi stated, "We are thrilled to be honored with the 'Leadership in Digital Innovation' award at the GEOBIM conference this past week. We have set in place a strategic initiative centered on technology. With this initiative, we're challenging the organization to use technology to dramatically increase our flow efficiency. Receiving this award solidifies that we are taking the right steps to help us achieve this significant goal and I commend Tony, along with the project team, on the success of this complex project."
SSOE focuses largely on how technology can enable an enhanced, more collaborative process for their clients on every project. They are leveraging this technology in many different ways including making reality capture accessible to every project, coordinating all design disciplines within one model, enabling the use of the same model for design, fabrication, construction documentation, and estimating, and working with creative, cutting-edge vendors to specify unique building materials to provide significant cost or schedule advantages.
For more information regarding the GEOBIM 2019 award visit: https://www.geospatialworld.net/news/winners-for-leadership-in-geobim-practices-announced/.
https://www.ssoe.com/wp-content/uploads/GEOBIM_150x150.png
150
150
Jenni Roder
https://www.ssoe.com/wp-content/uploads/SSOE-1805-Reg-2.svg
Jenni Roder
2019-11-19 13:35:04
2020-01-10 11:57:34
SSOE Group Honored for 'Leadership in Digital Innovation' at GEOBIM Conference in Amsterdam