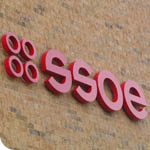 SSOE Group Introduces New Name, Principals, and Logo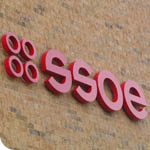 TOLEDO, Ohio, November 05, 2009 – SSOE Group CEO Tony Damon announced today that SSOE's name will officially become SSOE Group. "The name change, as well as the EPCM designation allows the company a greater opportunity to represent its full range of design, construction, and program management services to the markets we serve," said Damon.
Despite the fact that SSOE's roots are in design, the company has provided a full range of EPCM services to a number of global clients, including Cummins, Ford, FedEx, Honda, Volkswagen, and The Goodyear Tire and Rubber Company. SSOE began offering these services in response to a growing demand from clients to have a single point of responsibility along with the time and cost savings this delivery method can afford.
Concurrent with these changes is the introduction of a new logo. "The fresh logo helps us to better identify SSOE globally, an important feature as we continue to expand in a number of international markets, including China, India and Europe," said Catherine Malicki, principal and Vice President, Marketing and Public Relations.
In addition to the introduction of the new name and logo, six SSOE Senior Associates were promoted to Principal status. SSOE's Board of Directors named Bob McCain, PE, Mike Murphy, Brian K. Spencer, PE, John Marrow, PMP, Ron Guiliani, PE, PMP, and Doug Berner, PE, PMP, as principal owners. "This group brings exceptional expertise across our primary market sectors," Damon said. "Each has shared responsibility for SSOE's continued success in a challenging economy."
"SSOE has been consistently recognized for its expertise in a number of areas by several industry and business publications," Malicki said. "Inc. Magazine recently named SSOE Group as one of the fastest growing private firms in the country. That is another indicator of the growing influence of SSOE in areas like alternative energy, automotive, food and beverage, education, and healthcare."
Besides the ranking by Inc., SSOE was ranked third among automotive firms by Engineering News Record (ENR) based on revenue from automotive projects. SSOE designed 50 percent of all U.S. greenfield automotive plants built during the last decade. Building Design + Construction listed SSOE as ninth among Building Information Modeling (BIM) Adapters. Additionally, Modern Healthcare ranked SSOE among the top 50 Healthcare firms, while ENR ranked the company fourth among food processing firms. To that end, SSOE has completed more than 500 food related projects in the past five years.
https://www.ssoe.com/wp-content/uploads/2009/11/150x150_SSOE_new-name-principals-and-logo.png
150
150
hitch
http://www.ssoe.com/wp-content/uploads/SSOE-1805-Reg-2.svg
hitch
2009-11-05 13:08:38
2018-07-12 14:51:32
SSOE Group Introduces New Name, Principals, and Logo