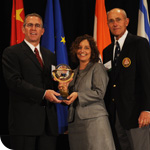 SSOE Group Named Large Exporter of the Year by Ohio Governor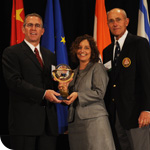 September 23, 2010, Toledo, Ohio– SSOE Group (www.ssoe.com), a global EPCM firm, was recognized for its success in the global marketplace by Ohio Governor Ted Strickland and Ohio Department of Development Director Lisa Patt-McDaniel at a luncheon held in Columbus yesterday. SSOE was named the "Large Exporter of the Year." In total, 20 Ohio companies were presented with the Governor's Excellence in Exporting Award ("E"Award). This is SSOE's third time being an "E" award recipient; they also received this honor in 2002 as well as 2006. The Governor's Excellence in Exporting Award annually recognizes Ohio companies that have increased sales and Ohio-based employment as a result of export activity, or have implemented a strategy to expand international sales.
Over the course of its 60 year history, SSOE has successfully executed projects in 30 countries – 12 in the last 3 years alone for more than 40 different clients. Simultaneously, SSOE has seen its Ohio locations climb to six offices spanning the state and acquired three Ohio-based firms. Over the last five years, SSOE tripled its non-U.S. based revenues. In the same time, revenue derived from Asia grew 800% and doubled in terms of the percentage of overall revenue.
https://www.ssoe.com/wp-content/uploads/2010/09/150x150_SSOE_large-exporter-of-the-year-by-ohio-governor.png
150
150
hitch
http://www.ssoe.com/wp-content/uploads/SSOE-1805-Reg-2.svg
hitch
2010-09-23 20:27:40
2018-07-11 20:16:49
SSOE Group Named Large Exporter of the Year by Ohio Governor