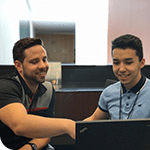 SSOE Group Partnering with Toledo Public Schools on Pilot Apprenticeship Program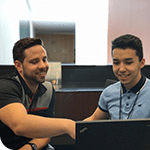 TOLEDO, Ohio, August 25, 2017 – SSOE Group (www.ssoe.com), a global project delivery firm for architecture, engineering, and construction management, is partnering with Toledo Public Schools (TPS) on a pilot apprenticeship program to engage students at the high school / pre-college level and provide them exposure to science, technology, engineering, and math (STEM) careers. Today, engineering is one of the fastest-growing, best-paid careers for recent college graduates, and this growth is projected to continue into the future.
For the pilot program, SSOE's Toledo office employed three students: Jeren Kutcher and Cole Sassaman from the Toledo Technology Academy, and Joaquin Ruiz from Start High School. Jeren worked alongside SSOE glass experts, while Cole gained exposure to cutting-edge technologies like virtual reality through his experience with the firm's Virtual Design and Construction (VDC) team. Joaquin joined SSOE's procurement department, supporting the contract administration process and engaging with design and construction resources to identify cost improvements for their clients. All three students start their first semester of college this fall at the University of Toledo.
Thomas Dimitrew, Senior Director, Career Technology, at Toledo Technical Academy, commented, "work-based experiences for students are the critical link between education and industry, enabling students to apply learning in a real-world context while building a bridge from high school to the workplace. Industry partners like SSOE provide guidance and learning opportunities that have a transformative impact on student interest and engagement, while benefitting from the opportunity to audition potential future employees who bring immediate value to the workforce."
Joaquin Ruiz commented on his apprenticeship with the firm, "the individuals at SSOE have helped me understand all aspects of the company, the ins and outs of it, and how everything is fluently and efficiently done. It has been eye opening to experience the daily operations of a global firm. This opportunity has been a blessing and it has only driven me further to pursue my career in the construction and architecture field. The experience with such an amazing company and even more amazing people will undoubtedly contribute to my success."
SSOE Principal Dan Vining has led the piloting of this program. "Engaging local students at the high-school level—either junior, senior, or post-graduate going into college—and providing them exposure to learn more of what engineering and architecture is all about is what this program is designed for. The ultimate goal would be to have these students become co-ops and interns with SSOE and, potentially some percentage of them, become full-time employees post college graduation," said Vining. "TPS is a great resource for SSOE to tap into and we are excited to partner with them on this endeavor to develop talent locally to stay local."
SSOE has a long history of commitment to preparing students for successful careers by generating interest and improving skills in the STEM fields. Every year, they host dozens of students in their offices across the U.S. from local area high schools as part of Engineers Week. In addition, they are proud sponsors of the National Math and Science Initiative (NMSI).
https://www.ssoe.com/wp-content/uploads/2017/08/150x150_SSOE_partnering-with-toledo-public-schools-on-pilot-apprenticeship-1.png
150
150
hitch
http://www.ssoe.com/wp-content/uploads/SSOE-1805-Reg-2.svg
hitch
2017-08-25 10:52:57
2018-07-05 17:29:11
SSOE Group Partnering with Toledo Public Schools on Pilot Apprenticeship Program