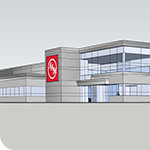 SSOE Group Provides Global Program Management to American Axle & Manufacturing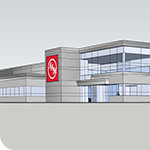 TOLEDO, Ohio, October 21, 2019 – SSOE Group (www.ssoe.com), a global project delivery firm for architecture, engineering, and construction management, is proud to announce that they are serving as a global alliance partner for American Axle & Manufacturing (AAM)—a global leader in design, engineering, validation and manufacturing of driveline, metal forming, powertrain, and casting technologies for automotive, commercial, and industrial markets.
SSOE's relationship with AAM began in 2011. With plans to upgrade more than 20 manufacturing facilities across three continents, AAM needed a firm with a parallel global footprint, qualified staff resources, and industry expertise to help guide the execution strategy of its projects on a global, programmatic scale.
Richard Ragan, Vice President, Global Facilities & EHS of American Axle stated, "With matching global footprints and a strong portfolio of delivering solutions for multinational clients, it was clear SSOE would be a great fit as a global alliance partner for AAM. Both teams work and communicate extremely well together, creating an environment for open dialogue which is key to a successful partnership. SSOE's ability to handle our entire program eliminates inefficiencies created when utilizing different firms for each project. SSOE is trained on AAM's standards and carries those out on every single project. They understand how to oversee our capital program and execute programs anywhere in the world. This approach has been extremely successful for us over the past two and a half years and is definitely a huge cost savings for AAM."
Through this global alliance approach, SSOE is able to develop an overall delivery strategy that produces quantifiable benefits on a program level as well as on a project level. This delivers distinct advantages in the form of compressed schedules, total cost savings, and predictable, smooth progress. Best practices and lessons-learned from previous projects allow SSOE's team to execute each subsequent project more efficiently, reducing costs while providing faster delivery. Leveraging our extensive industry knowledge, SSOE is also able to offer suggestions about equipment changes and facility modernizations, saving AAM money and creating a more efficient facility. Continuous improvement is inherent in this approach; as SSOE's relationship with AAM grows, so does their ability to create value—resulting in better, faster, and lower cost projects.
SSOE's designated Program Manager, Ed Royzman, PE, to oversee all projects worldwide, providing orchestration of project direction and leadership to keep all projects aligned with AAM's goals and objectives. Tight program oversight allows for consistency of design and construction from country to country, in compliance with technical specifications and AAM global standards.
SSOE is currently executing engineering design projects for AAM on three continents – Asia, North America, and Europe. Projects in progress or completed to-date include:
New European Headquarters (EHQ) – AAM's new EHQ will consolidate two existing AAM facilities formerly located in Bad Homburg and Dieburg, both in Germany. SSOE provided conceptual design and worked closely with AAM's international staff to bring together AAM's European activities under one roof. As the project moves into construction, SSOE is providing Construction Management services in close coordination with in-country partner, Scalaplan GmbH and general contractor Bremer AG.
Manufacturing Facility Expansion – China. SSOE China provided design and owner's rep services for a new building designed to support AAM's growing automotive parts market.
New Manufacturing Facility – Spain. SSOE provided project oversight for this Powertrain building.
New Manufacturing Facility – Mexico. SSOE Mexico provided conceptual design, construction document development, and owner's rep services for the new 300,000 SF manufacturing plant.
Numerous HVAC / Ventilation Studies – Multiple Locations. SSOE, with the aid of their China and Mexico operations, has provided physical and analytical observations of existing conditions and follow-up reports and recommendations for numerous ventilation studies.
https://www.ssoe.com/wp-content/uploads/AAM-EHQ_150x150.png
150
150
Jenni Roder
http://www.ssoe.com/wp-content/uploads/SSOE-1805-Reg-2.svg
Jenni Roder
2019-10-21 13:03:49
2019-10-21 16:27:07
SSOE Group Provides Global Program Management to American Axle & Manufacturing