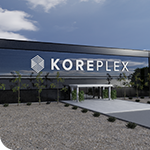 SSOE Group Providing Design for KOREPlex Facility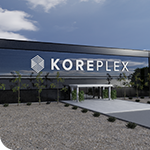 KORE Power's KOREPlex Will Produce Nearly 60 Million Battery Cells Annually
BUCKEYE, Arizona, November 10, 2021 – SSOE Group (www.ssoe.com), a global project delivery firm for architecture, engineering, and construction management, announced its selection as the A/E services provider for KORE Power's greenfield advanced manufacturing, battery cell production facility, KOREPlex. KORE Power is the leading U.S.-based developer of battery cell technology for the energy storage and electric transportation industries. The new KOREPlex facility will create more than 3,000 new advanced manufacturing jobs in Arizona and strengthen U.S. energy security by creating a new domestic battery cell supply.
"We recently announced our selection of Yates Construction to lead the design-build team for the KOREPlex facility. We're excited to add SSOE Group as our design partner for this project," stated Lindsay Gorrill, KORE Power CEO.  "The firm's deep resume of designing large-scale advanced manufacturing facilities, process expertise, and history of delivering successful projects made them a clear choice to round out our project team. We look forward to a successful partnership."
The KOREPlex will produce nearly 60 million battery cells annually to support a reliable and independent U.S. supply chain for lithium-ion battery cells, which are critical to the future of electric vehicles, power grids, and more. The facility will have the capacity to produce enough power for 3.2 million homes each year.
SSOE, along with Yates Construction, design-build partner, and representatives from KORE Power, kicked off the design of the 1 million SF, 12 GWh, KOREPlex facility with a collaborative session earlier this month. Battery Market Leader Brandon Darroch shared his enthusiasm for the project, stating, "It's always exciting to work with clients who are on the leading edge of new and innovative technologies. The global electrification initiative aims to transform humanity towards a more sustainable future, and it is companies like KORE Power making it possible. It's equally as exciting to partner with Yates Construction, an industry-recognized leader in the advanced manufacturing space!"
Some of the advanced manufacturing attributes of the KOREPlex will include fully automated cell assembly lines, automated material movement and handling, an automated packaging line, and a pandemic-ready design to allow for safe workspaces. KOREPlex will operate with net-zero carbon emissions through strategic partnerships and solar -plus- and storage co-generation.
"This is a significant project for not only SSOE but in strengthening the reach and supply of lithium-ion battery cells throughout the U.S. and worldwide, that we're extremely proud to be a part of," stated Brett Susany, Senior Vice President, Complex Project Execution at SSOE. He continued, "Design of the KOREPlex facility provides an opportunity for our team to draw on our unique skill set of expertise in the battery manufacturing sector—combining our understanding of large-scale manufacturing with a technical mastery of controlled environments and process engineering. We're excited to deliver this impressive facility."
Find additional details about the company and the manufacturing facility on KORE Power's website at www.KOREPower.com.
About KORE Power
KORE Power, Inc., is a leading U.S.-based developer of battery cell technology for the clean energy industry, serving energy storage, e-mobility, utility, industrial and mission-critical markets across the globe. KORE Power designs and manufactures its proprietary NMC and LFP cells, VDA modules and packs, optimized by its battery management system. Also, through its global partnerships, KORE designs and manufactures top-tier energy storage solutions (ESS).
KORE Power's differentiated approach provides customers with direct access, unparalleled service, superior technology, and Tier 1 product availability. We care about building sustainable communities, clean energy jobs and green economic expansion. KORE Power is proud to offer a functional solution to real-world problems that fulfill growing market demand and contribute to a zero-carbon future.
About Yates Construction
W. G. Yates & Sons Construction Company (Yates Construction) is part of The Yates Companies, Inc., which ranks among the top construction services providers. The firm has the capabilities to provide a full range of construction services to clients nationally and internationally. In recent years, Yates has ranked among the top 50 providers in all delivery methods (Construction Management, Program Management, General Contracting, and Design-Build), ranked #1 in Automotive Plant construction, and #3 in Manufacturing by Engineering News-Record (ENR). These attributes make Yates one of the largest and most well-respected corporations in the construction industry today. Visit Yates Construction's website for more information: www.wgyates.com.
https://www.ssoe.com/wp-content/uploads/ssoe-koreplex_150x150.png
150
150
Jenni Roder
http://www.ssoe.com/wp-content/uploads/SSOE-1805-Reg-2.svg
Jenni Roder
2021-11-10 14:09:21
2021-11-10 14:13:49
SSOE Group Providing Design for KOREPlex Facility