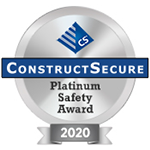 SSOE Group Receives Platinum Safety Award from ConstructSecure Contractor Safety Assessment Program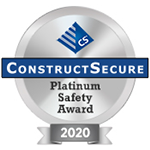 HILLSBORO, Oregon, May 13, 2020 – SSOE Group (www.ssoe.com), a global project delivery firm for architecture, engineering, and construction management, is proud to announce they have been recognized with a Platinum Safety Award from ConstructSecure for their high score on the independent Construction Safety Assessment Program. SSOE received a 97-point score out of 100 possible points—a result of SSOE's safety-always culture. SSOE executes a full range of design and construction projects for industrial and general building clients throughout the world. A significant proportion of their design and construction services are performed for advanced technology clients based out of our Hillsboro, Oregon office.
"Platinum status is not easily achieved. SSOE has demonstrated a remarkable commitment to implementing safety management systems resulting in exceptionally low incident rates," states Garrett Burke, CEO of ConstructSecure.
The Safety Assessment Program reviews a company's historic safety performance and current safety management systems. The program normalizes data for vendor or contractor size and type of work performed. The program provides a thorough, objective, and consistent evaluation of company performance so clients can identify, monitor, and manage risk smarter. The results provide a strong indicator of how a vendor or contractor values safety and is a reliable predictor of future performance.
"Our exceptional safety record reflects our commitment to protecting not only our employees, but also our clients, their projects, and our partners," shares Scott Goodwin, CHST, Corporate Safety Manager at SSOE. "Our 'Safety Always' culture helps us deliver a message that accidents are preventable and that includes at home, work, and play. We take a very proactive approach to construction safety by partnering with clients and contractors who believe in the same mission as we do and together we deliver successful projects safely."
Central to SSOE's organizational culture is their commitment to the health and safety of employees. So much so, they have a corporate goal to achieve zero recordable injuries each year. With more than 20 offices around the world and nearly 1,000 employees, it is essential to have initiatives and programs to ensure proper training takes place. Programs offered include new hire safety training and orientation, continuous training to increase safety knowledge and maintain focus, shared incident reports and near misses to raise safety awareness, weekly safety tips that provide corporate-wide meeting topics, quarterly safety meetings with guest speakers, OSHA training for all technical employees, an SSOE Safety App, and additional client- and project-specific safety training as required. Learn more about SSOE's safety-always culture here.
ConstructSecure, Inc. is a global SaaS company. Their cloud-based and mobile platform empowers clients to make smarter risk management decisions. Proprietary algorithms, developed at an Ivy League University, leverage safety and financial indicators to accurately pre-qualify vendors. The data captured by their suite of integrated solutions ensures that their clients, and their subcontracted vendors, can more effectively and accurately identify, monitor, and mitigate risk to reduce potentially dangerous and costly exposures. Their solutions go beyond solely meeting regulatory standards and approach safety and risk in a way that reduces the number of injuries, loss rate, EMR, defaults, and insurance premiums, and positively impacts the overall financial health of the company. Learn more about ConstructSecure here.
https://www.ssoe.com/wp-content/uploads/constructsecure_150x150.png
150
150
Jenni Roder
/wp-content/uploads/2018/05/logo_ssoe.png
Jenni Roder
2020-05-13 10:17:17
2020-05-13 15:02:34
SSOE Group Receives Platinum Safety Award from ConstructSecure Contractor Safety Assessment Program