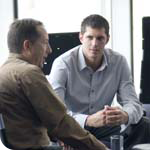 SSOE Group Rolls Out Technical Rotation Program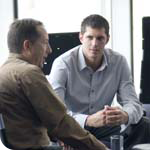 TOLEDO, Ohio, October 12, 2009 — SSOE Group, a global EPCM firm, is giving entry level professionals an opportunity to experience various aspects of their occupation through a new company-wide technical rotation program. Those who qualify for the program will have the chance to build their resumes by working for different SSOE business units and office locations at an accelerated pace.
Lisa Behrendt, SSOE Business Leader, Training and Development called the program "an innovative way for a professional services firm to help newer employees find their fit early in their careers." The program's goal is to help candidates develop an internal network while they work on a variety of projects in diverse work environments. According to Denese Adams, Human Resources Manager at SSOE, the program is an important tool to help entry level employees find their professional calling. "We are excited to implement a program that lets our people find what sparks their enthusiasm," Adams said. "It follows that those who love their work are more likely to grow in the company's environment."
Those who have been involved in the trial phase of the plan give the program a "thumbs up." An architect, who has earned his LEED accreditation, and works in SSOE's St. Paul office, said he has been given responsibilities that "have helped him develop knowledge in engineering and management more quickly than expected." Another employee, an engineer in the Omaha office, said the program has helped him gain "the necessary freedoms to grow within SSOE."
To ensure that employees in the program find what they are looking for a sponsor is matched with them to coordinate the entire application process. This process helps each candidate identify his or her interest in alternate projects or locations. Each sponsor commits to working with the Rotation Program participant for the duration of their experience, sometimes for as long as four to five years. Sponsors provide suggestions and map out the rotations as they proceed.
https://www.ssoe.com/wp-content/uploads/2009/10/150x150_SSOE_technical-rotation-program.png
150
150
hitch
http://www.ssoe.com/wp-content/uploads/SSOE-1805-Reg-2.svg
hitch
2009-10-12 13:35:02
2018-07-12 14:58:17
SSOE Group Rolls Out Technical Rotation Program