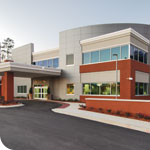 SSOE Group's Tallahassee Memorial Cancer Center Project Receives National Associated Builders and Contractors "Excellence in Construction" Award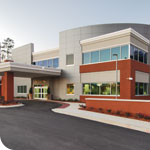 Nashville, Tennessee, March 1, 2012 — SSOE Group (www.ssoe.com), an international architecture, engineering, procurement, and construction management (EPCM) firm, announced today that the Tallahassee Memorial Cancer Center located in Tallahassee, Florida has received a National Excellence in Construction Award from Associated Builders and Contractors (ABC). The ABC awards seek to recognize the nation's most innovative and high quality construction projects and safety programs.
The winning project, developed by real estate investor, Health Care REIT, was delivered to the client ahead of schedule and below budget — resulting in a 52,000 SF building which was awarded LEED® Silver certification in April 2011. Sustainable features included the use of 92% recycled structural steel, a patient healing garden, separate public and staff places of respite, and strategies focused on recycling, water use reduction, thermal comfort, indoor and outdoor pollution control, and environmentally friendly low mercury lamp lighting.
SSOE provided planning and design services on the new Tallahassee Memorial Cancer Center, working with general contractor Robins & Morton for the construction. Robins & Morton's Brett Kramer, Project Manager stated, "Thanks to the teamwork, experience, and professionalism of SSOE and its commitment in providing a first class project, TMH Cancer Center was a tremendous success for all parties involved. The success of this project and this award would not have been possible without SSOE."
Entries were first submitted to ABC local state chapters by providing a project narrative and detailed description of the construction process used – with specific attention to new processes, time and space restrictions, special challenges faced to complete the project and a disciplined approach to integrate FF&E into the project.
Once projects were recognized at the chapter level, they then were eligible to receive national recognition from ABC if chosen. The award was presented to the design, construction and ownership team at the 22nd Annual Excellence in Construction Awards Banquet held on Thursday, February 22, 2012 at the Arizona Biltmore in Phoenix, Arizona.
For more information on ABC's Top Constructions Projects and Excellence in Construction award visit: ww.abc.org/Business_Development/Awards/Excellence_in_Construction_Awards.aspx
About Robins & Morton
Robins & Morton is a general contractor specializing in complex healthcare, commercial, education, power and industrial projects. Robins & Morton was founded in 1946 and has completed more than 1000 projects in 31 states, serving clients from division offices in Birmingham, Orlando, Dallas, Nashville, Huntsville, Charlotte, and Raleigh-Durham. Robins & Morton has consistently ranked among the top six companies (including six #1 rankings) on Modern Healthcare's list of Top Contractors since the inception of the list in 1988 and has been ranked #1 for two consecutive years in 2009 and 2010.
About Health Care REIT
Health Care REIT, Inc., an S&P500 company with headquarters in Toledo, Ohio, is a real estate investment trust that invests across the full spectrum of seniors housing and health care real estate. The company also provides an extensive array of property management and development services. As of December 31, 2011, the company's broadly diversified portfolio consisted of 937 facilities in 46 states.
https://www.ssoe.com/wp-content/uploads/2012/03/150x150_SSOE_tallahassee-memorial-cancer-center-project-receives-national-associated-builders-and-contractors-excellence-in-construction-award.png
150
150
hitch
http://www.ssoe.com/wp-content/uploads/SSOE-1805-Reg-2.svg
hitch
2012-03-01 11:55:45
2018-07-11 18:24:07
SSOE Group's Tallahassee Memorial Cancer Center Project Receives National Associated Builders and Contractors "Excellence in Construction" Award