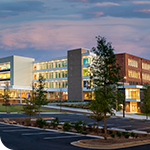 SSOE Receives AIA Georgia Design Award for the Historic Preservation of Atlanta Public Schools' David T. Howard Middle School Renovation and Addition Project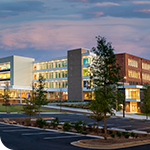 ATLANTA, Georgia, October 29, 2021 – SSOE (www.ssoe.com), a global project delivery firm for architecture, engineering, and construction management, announced its recent design award win from the American Institute of Architects Georgia Chapter (AIA Georgia). The firm took home the 2021 Honor Design Award in Renovation / Restoration and Adaptive Reuse Over $1M for the recently completed David T. Howard Middle School project.
The award, which was announced at AIA Georgia's annual design award celebration earlier this month, honors the, "…masterful renovation, preservation, rehabilitation, reconstruction, adaptive-reuse, and restoration projects with two gross cost levels of entry, over and under $1 million." New to the awards program this year, the Renovation / Restoration / Adaptive Reuse category entries were voted on by a jury of distinguished guests from across the design profession, comprised of projects completed and occupied between January 1, 2015 and December 31, 2020.
"Great care was taken to design sensitively around the existing structure," states Bill Polk, AIA, Principal and Architect of the firm's Building Design Group. "The team worked hard to successfully highlight the school's historic attributes while also creating a new identity for what is now a modern middle school."
Located in the heart of the city's growing Old Fourth Ward neighborhood, the school, which originally opened in 1923, was built on land donated by its namesake, David Tobias Howard, one of the city's first African American millionaires and founder of Atlanta's first Black-owned bank. Since its opening, prominent graduates of the school include Civil Rights leader Martin Luther King, Jr., former New York Knicks point guard Walt Frazier, the City of Atlanta's first African American Mayor Maynard Jackson, Olympic Gold medalist, Mildred McDaniel, and leading business executive and civil rights activist, Vernon Jordan.
After many years of disuse, Atlanta Public School officials sought to breathe new life into this prominent neighborhood landmark.
"The primary challenge of the project involved the transformation of an abandoned, historic building into a modern educational facility – one that continues to pay homage to its unique past," said Kirk Marchisen, AIA, LEED AP, Principal and Architecture Department Manager of the firm's Building Design Group. "The school's innovative design preserved the building's existing structures, while also allowing the team to construct a 'new' entrance concept based upon an unrealized original design. The juxtaposition between old and new creates a building design that is both timeless and, most importantly, cohesive."
The scope of the project included the thoughtful repair of the building's brick facades and interior materials as well as the replacement of all exterior windows. The classrooms, which were renovated throughout the building, included the strategic restoration of one of the school's original classrooms which now serves as a historical example of how the space was originally used.
"The classroom building and gymnasium were sensitively rehabilitated while new classrooms and labs, an auditorium with adjacent music rooms, media center, cafeteria / kitchen, and administration suite, along with a four-story glass bridge were designed to complement the school's original architecture," continued Polk. "
SSOE, in collaboration with Lord Aeck Sargent, worked in conjunction with Atlanta Public Schools, the David T. Howard Alumni Association, and key project stakeholders on this renovation and addition. The building, which encompasses more than 200,000-square feet, sits on 7.4-acres of land.
"From the beginning, the team knew this project was going to be more than a middle school," states Marchisen. "It provided an opportunity to create a design for a historic building that addressed unfulfilled cultural legacies and impacted the local community."
To date, the David T. Howard Middle School project has also won design awards from The Georgia Trust and the Atlanta Urban Design Commission.
For the complete list of award-winners, visit: https://aiaga.org/awards/design-honor-award-winners-2021/.
https://www.ssoe.com/wp-content/uploads/howard_150x150-1-1.png
150
150
Jenni Roder
http://www.ssoe.com/wp-content/uploads/SSOE-1805-Reg-2.svg
Jenni Roder
2021-10-29 13:00:20
2022-12-08 11:27:53
SSOE Receives AIA Georgia Design Award for the Historic Preservation of Atlanta Public Schools' David T. Howard Middle School Renovation and Addition Project