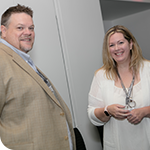 SSOE's Matthew Oberts and Jennifer Breault Present on Sustainability at Volkswagen Group of America's Leadership Exchange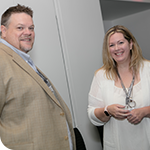 ATLANTA, Georgia, July 26, 2021 – SSOE Group (www.ssoe.com), a global project delivery firm for architecture, engineering, and construction management, is excited to announce that Matthew Oberts, PE, LEED AP, Senior Vice President and Strategic Business Unit (SBU) Manager, and Jennifer Breault, AIA, NCARB, LEED AP BD+C, Senior Architect and Sustainability Committee Chair, were selected to present at Volkswagen Group of America's Leadership Exchange hosted by Porsche Consulting in Atlanta, Georgia on July 15-16, 2021. Both Matthew and Jennifer directly support the firm's automotive and manufacturing clients in their respective roles.
Matthew and Jennifer presented to nearly 20 top-ranking automotive industry executives on the topic of sustainability. During their presentation, they shared thoughts on SSOE's path to the year 2050, how the design community can impact sustainability goals and how leadership can empower these initiatives, SSOE's business practices in relation to climate action and the United Nation's 17 Sustainable Development Goals, and how manufacturers can be challenged to make larger impacts on sustainability goals throughout the entire supply chain. Additionally, Matthew and Jennifer discussed how SSOE's unique perspective and in-depth knowledge of both the automotive and semiconductor markets has led to the firm's niche expertise in designing assembly plants to support electric vehicles, lithium-ion battery production, and recycling facilities for lithium-ion batteries, which are necessary to ensure sustainability.
SSOE's expertise in the automotive, chemical, and advanced technology markets—combined with significant process experience—allows them to bring an unparalleled perspective to designing manufacturing facilities that reduce emissions worldwide. The design professionals at SSOE understand the importance of establishing and maintaining the proper environmental conditions for hazardous material handling, cleanroom-type manufacturing environments, and spatial needs for assembly and production. SSOE has done this for literally some of the largest manufacturing projects in the world and have become experts in applying what they've learned to projects of all sizes.
Matthew started his career at SSOE in 2007 as the Mechanical Engineering Department Manager in the firm's Facilities SBU. In 2009, Matt obtained his professional engineering license and in 2010, was promoted to Technical Division Manager within SSOE's Automotive and Manufacturing Facilities (AMF) SBU. He was named a Principal in 2015 and is currently the AMF SBU Manager. Matthew is a graduate of the University of Michigan with a Bachelor of Science in Chemical Engineering. In addition, he earned a Master of Business Administration in Strategic Management from Davenport University.
Jennifer is a Senior Associate Architect at SSOE. With over 20 years of experience, she leads the architectural design of new and renovated facilities for a variety of client types, including retail, commercial, industrial, and education. She has collaborated on both internal and external projects from locations in North America, Europe, and Asia. Additionally, she is responsible for LEED management and sustainable design coordination on large construction projects and is the chair of SSOE's Sustainability Group. Jennifer graduated from Lawrence Technological University with a Bachelor of Science in Architecture, a Master of Architecture, and has earned a Business Sustainability Management Certificate through the University of Cambridge Institute for Sustainability Leadership.
SSOE, a nationally ranked Top 5 Automotive Assembly Plant Design Firm for the past two years and Top 5 Semiconductor Design Firm for the past nine years (Engineering News-Record)—ranked #2 in both 2020 and 2021—has a roster of clients who manufacture more than 50% of the cars sold in the world and is currently engaged with four electric vehicle manufacturing clients across more than six facilities in the U.S.
https://www.ssoe.com/wp-content/uploads/vw-leadership-summit_150x150.png
150
150
Jenni Roder
http://www.ssoe.com/wp-content/uploads/SSOE-1805-Reg-2.svg
Jenni Roder
2021-07-26 12:08:57
2021-07-27 10:03:33
SSOE's Matthew Oberts and Jennifer Breault Present on Sustainability at Volkswagen Group of America's Leadership Exchange