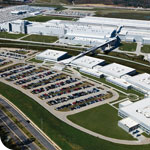 Volkswagen Chattanooga Becomes World's First LEED Platinum Automotive Manufacturing Plant with Design and Construction Management from SSOE Group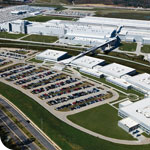 Chattanooga, TN, February 7, 2012 – SSOE Group (www.ssoe.com), an international engineering, procurement, and construction management (EPCM) firm, along with Vertegy, announce their involvement in the success of first and only LEED® Platinum automotive manufacturing plant in the world. Volkswagen's Chattanooga manufacturing plant was recently awarded a Platinum certification, the highest designation possible from the U.S. Green Building Council's (USGBC) Leadership in Energy and Environmental Design (LEED) green building certification program.
SSOE has successfully performed design work for more than 50% of all automotive assembly plants built in the United States over the last 10 years. Based on that experience, Volkswagen called upon SSOE to oversee the architecture, engineering, and construction management for this $1 billion+ production facility which produces the all-new 2012 Passat. Once it was determined to pursue LEED, SSOE performed the role of Project Team Administrator (PTA) and Design Lead for all LEED credits with Vertegy provided commissioning and third-party verification.
"Think Blue is Volkswagen's commitment to reach the highest level of environmental protection and corporate social responsibility in everything we do. It was this commitment that drove the team to strive toward designing, constructing, and applying for LEED accreditation. Being the first automotive plant worldwide to receive a Platinum certification is an enormous accomplishment and wouldn't have been possible without the innovative design and construction management of SSOE. Their LEED knowledge and expertise supported us in moving forward with the certification process and achieving the Platinum certification successfully," said Dr. Jan Spies, Head of Factory Planning, Volkswagen AG.
The Volkswagen manufacturing plant earned 52 points out of the 69 possible to earn the Platinum title in October. Sustainable highlights of the plant include:
Certification of the paint shop facility. Previous assembly plants have excluded their paint shop in the LEED certification process due to the complexity of the manufacturing process and the challenge of getting them certified. VW's sustainably designed paint shop will save more than 50 million gallons of water a year.
The construction team salvaged or recycled nearly 78 percent (4,602 tons) of construction and demolition waste.
48 percent of total building materials were manufactured using recycled materials.
Through low-flow water closets and urinals, the plant achieves a 58 percent reduction in potable water used for sewage conveyance. Additionally, the plant harvests rainwater from its roof that is collected for use in the sanitary waste system. Together, these strategies save 1.7 million gallons of potable water each year. Low-flow showers, lavatory and kitchen faucets further decrease potable water usage, resulting in total savings of more than 3 million gallons of potable water each year.
A white, reflective roofing material was installed on 100 percent of the roof area of the building, which reflects heat, lowering cooling costs and saving energy.
All exterior lights at the facility provide only the minimum lighting required for safety to ensure that light does not spill into the night sky, adversely affecting the surrounding nocturnal environments through excessive glare.
Measures to promote environmentally friendly commutes include the provision of bike racks for visitors and employees, availability of showers and lockers for employee use and preferred parking for those driving low-emitting and fuel-efficient vehicles and for those who carpool to the site.
The Volkswagen Academy was also certified by USGBC as a LEED Platinum facility earning 54 points of out 69 possible and received this designation in November. The Volkswagen Academy is used to train new employees for work at the plant.
In addition to the Volkswagen Chattanooga manufacturing plant, SSOE is also responsible for the first Gold LEED certified facility in the state of Ohio and first Gold LEED certified central utility plant in the U.S. Currently, SSOE has more than a dozen projects underway at various stages of the LEED certification process around the world and was ranked first nationally among green industrial and manufacturing design firms by ENR magazine.
About Volkswagen Chattanooga
Volkswagen will invest $1 billion in the local economy for the Chattanooga plant and create more than 2,000 direct jobs in the region. According to independent studies, the new Volkswagen plant is expected to generate $12 billion in income growth and an additional 9,500 jobs related to the project. The Chattanooga manufacturing facility builds the all-new 2012 Passat sedan, specially designed for the North American market and winner of the Motor Trend magazine 2012 Car of the Year award.
https://www.ssoe.com/wp-content/uploads/2012/02/150x150_SSOE_volkswagen-chattanooga-becomes-worlds-first-leed-platinum-automotive-manufacturing-plant.png
150
150
hitch
http://www.ssoe.com/wp-content/uploads/SSOE-1805-Reg-2.svg
hitch
2012-02-07 15:47:42
2018-07-11 18:27:45
Volkswagen Chattanooga Becomes World's First LEED Platinum Automotive Manufacturing Plant with Design and Construction Management from SSOE Group