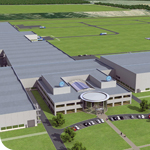 Volkswagen Group of America Selects Engineering and Architecture Firm and Environmental Consultancy for New Production Facility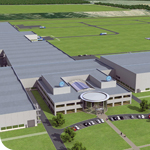 Herndon, Va. (August 5, 2008) — Volkswagen Group of America announced today that engineering and architecture firm SSOE has been hired to oversee the architecture, engineering and construction management for the company's new production facility in Chattanooga, Tenn. The company will partner with Environmental Resources Management (ERM) for the environmental permitting process and Alberici Constructors, Inc. for the construction management of the facility. SSOE and ERM have offices in Nashville.
"The selection of these environmentally focused companies underscores our commitment to sustainable development," said David Geanacopoulos, executive vice president and general counsel, Volkswagen Group of America. "We look forward to partnering with these exceptional companies in the coming months as we build an environmentally responsible production facility in the U.S."
SSOE will staff the project in Tennessee with approximately 30 employees on site over the next 14 to 16 months. The company, ranked 5th in Automotive Design Firms by Engineering News Record, has performed design work for 50 percent of all automotive assembly plants built in the U.S. over the last 10 years.
"SSOE is very excited about this first opportunity to work with Volkswagen as they grow their investment in the United States. We began building this relationship five years ago and are proud to add Volkswagen to our automotive resume. We look forward to a long relationship," said Craig Bowie, PE, Senior Vice President, Automotive and Industrial Facilities for SSOE, Inc.
Environmental Resources Management (ERM) is the world's leading provider of environmental and related consulting services. With over 145 offices in more than 40 countries, employing over 3,500 staff, in the past 5 years ERM has worked with 60 percent of the Global Fortune 500 companies in over 160 different countries. The ERM office located in Brentwood, Tennessee has more than 25 engineers and scientists with expertise in air quality, compliance assurance, due diligence, remediation, and water/wastewater. The ERM Brentwood office has a diverse base of industrial clients in various manufacturing sectors, including automotive, chemical, building and consumer products, glass and metal production, and utilities.
"This is an outstanding opportunity for ERM to partner with Volkswagen. We are excited that Volkswagen chose ERM to prepare applications and assist them through the environmental permitting process for their facility. In leading this project from our Brentwood, TN office; we have leveraged our local experience, capabilities and strong relationships to meet Volkswagen's requirements and schedules," said Jeff Twaddle, ERM principal-in-charge.
Alberici is a top five construction manager of auto facilities in North America and a leader in constructing sustainable manufacturing facilities. The St. Louis-based firm has completed over 22 green building projects, including the "greenest" private headquarters building in the world.
"We are proud to be associated with a company like Volkswagen who has shown their commitment to the environment and to investing in the United States with their decision to build in Tennessee," said Greg Kozicz, Alberici CEO. He added that "Alberici will be providing approximately ten Construction Management professionals to the SSOE team. Alberici and SSOE have worked together on over 20 projects throughout North America. This experience in addition to Alberici's automotive expertise will help ensure the success of the project."
About Volkswagen of America, Inc.
Volkswagen Group of America, Inc. is a wholly-owned subsidiary of Volkswagen AG, the world's fourth largest automaker and the largest carmaker in Europe. It houses the U.S. operations of a worldwide family of distinguished and exciting brands including Audi, Bentley, Bugatti, Lamborghini and Volkswagen, as well as VW Credit, Inc. Founded in 1955, the company's headquarters are in Herndon, Va.
Volkswagen Group of America brings to the U.S. vehicles that marry the science of engineering and the art of styling, with the goal of offering attractive, safe, and environmentally sound automobiles that are competitive and set world standards in their respective classes. The company has approximately 2,500 employees in the United States and sells its vehicles through an 800-strong dealer network. With increasing popularity for its brands in the U.S., the company has set the goal of reaching one million car sales in the country by 2018. For more information, visit www.volkswagengroupamerica.com.
About ERM
For more than 30 years, ERM has provided environmental, health and safety consulting services to its clients around the world. ERM is the world's leading environmental consulting firm. ERM was ranked "Number 1 All Environmental Firm" by Engineering News Record, July 2007. ERM has over 145 offices in 40 countries and employs over 3,500 staff. ERM delivers innovative solutions for leading business clients, assisting them in managing their environmental and related risks. The company generated gross revenues of over US$500 million for the fiscal year ended March 2008. Visit www.erm.com for additional information.
About Alberici
Founded 90 years ago, Alberici provides general contracting, construction management, specialty contracting and design-build services across various markets including automotive, energy, food and beverage, general building, healthcare, industrial, manufacturing and water/wastewater. In addition to its St. Louis headquarters, Alberici has offices in Atlanta, Detroit, Canada and Mexico. Alberici employs over 2,000 field and office employees and had annual revenue of $1.15 billion in 2007. Visit www.alberici.com for additional information.
CONTACT:
Volkswagen Group:
Jill Bratina
(703) 364-7250
jill.bratina@vw.com
SSOE:
Betsy Hurner
(419) 255-3830
bhurner@ssoe.com
ERM:
Joe Halberda
(843) 856-4270
joe.halberda@erm.com
Alberici Construction:
Chris Enriquez
314-733-2505
cenriquez@alberici.com
https://www.ssoe.com/wp-content/uploads/2008/08/150x150_SSOE_volkswagen-new-production-facility.png
150
150
hitch
/wp-content/uploads/2018/05/logo_ssoe.png
hitch
2008-08-05 14:47:04
2018-07-12 15:36:08
Volkswagen Group of America Selects Engineering and Architecture Firm and Environmental Consultancy for New Production Facility