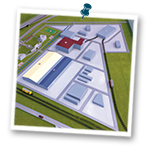 Making Steel—Big Business and Big Work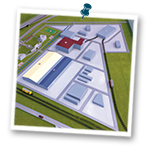 Whenever a company needs new manufacturing facilities to capture market share, getting up and running quickly is critical. It needs to pick a firm with solid experience, one that won't flinch at challenges that might arise, and will do what it takes to meet an aggressive schedule. In this case, the firm is SSOE. The market is the oil and gas industry and the product is high quality API Grade steel tube – over 500,000 metric tons annually.
The client, TPCO America, will produce its seamless steel tube in South Texas in the heart of America's oil country. They are locating in the United States to capitalize on the growing demand for steel tube generated by the oil and gas industry. The American market is highly motivated to purchase steel tube that is produced domestically. Not only will it help U.S. efforts to become energy independent, it will help keep prices in check for energy consumers.
TPCO's parent company is the Tianjin Pipe Corporation, China's largest producer of seamless steel pipe. It has been supplying the product for two decades to major international oil and gas companies in more than 100 countries. As a global giant in steel pipe manufacturing, it understood the importance of having American engineering and construction companies on board who are experts in designing and delivering integrated production facilities worldwide. The design / build team of SSOE and Yates Construction is responsible for the complete design of the Pipe Rolling / Pipe Finishing Mill with SSOE providing architectural, engineering, and design services for the plant including design of the facility and its infrastructure, design of the facility and process utilities, process integration, equipment installation, and also construction support.
Substantial hurdles to clear
Working closely with its construction partner Yates Construction, SSOE is applying a concurrent design / build approach that is making it possible for the team to deliver the 1.6 million square foot facility on a compressed schedule. The pace of the project increases the importance of SSOE's job to coordinate all aspects of the work with Yates. An equally demanding task is to integrate the various types and pieces of equipment that are being supplied by multiple OEM contractors into a functioning process line.
While it's not unusual for site conditions to require a degree of mitigation, stabilizing the TPCO plant site was a substantial project by itself. The soil proved to be sandy and the process demands a very stable (deflection free) foundation. SSOE designed a piling network to stabilize the substructure and distribute the load so it would maintain the alignment and functionality of the manufacturing systems into the future. And one additional requirement presented a unique challenge to the SSOE engineering team— the solution needed to be effective, installable, and affordable. SSOE worked closely with Yates to research multiple construction methods and consult multiple suppliers to provide the most economical design and construction solutions to keep the project within budget.
To SSOE, this project is another opportunity to apply its experience and diverse capabilities to help a client achieve its critical business goals. For South Texas, it brings a brand new industry, the potential for 400-600 new jobs, and a ten-year economic impact of $2.7 billion. And it makes Tianjin Pipe Corporation the force behind the largest single investment by a Chinese company in the U.S.
https://www.ssoe.com/wp-content/uploads/2014/05/150x150_SSOE_making-steel-big-business-and-big-work.png
150
150
hitch
http://www.ssoe.com/wp-content/uploads/SSOE-1805-Reg-2.svg
hitch
2014-05-12 11:24:05
2018-07-11 17:07:11
Making Steel—Big Business and Big Work