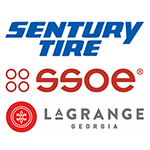 Sentury Tire Selects SSOE Group for Complete Design of 1.4 Million Square Foot Tire Manufacturing Facility in LaGrange, Georgia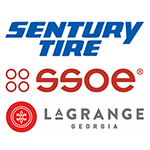 LAGRANGE, Georgia, July 11, 2017 – Sentury Tire, a global advanced-technology tire manufacturer of automotive and aircraft tires, selected SSOE Group, a global project delivery firm for architecture, engineering, and construction management, to design its 1.4 million square foot tire manufacturing facility in LaGrange, Georgia.
The new, $430 million tire manufacturing facility will serve as the North American headquarters and will be located on 400 acres, about 70 miles southwest of Atlanta in the LaGrange Callaway South Industrial Park. Bringing more than 1,000 jobs to Georgia, the plant will be fully operational in 2019 with the capacity to produce 12 million units per year. In line with Sentury's other factories, the Georgia plant will feature smart technology, advanced test track and proving grounds, research and development, as well as warehouse and distribution operations. Sentury Tire built the first industry 4.0 smart factory in China, and an additional advanced manufacturing plant recently went online in Thailand.
"We are thrilled to work with the SSOE team to design an innovative facility for our North American operations," said Rami Helminen, Sentury Tire Executive Vice President and Chief Executive Officer for Sentury Tire North America. "Bringing a 4.0 smart factory to Georgia is an important step for Sentury and the State of Georgia. Our vision is to combine the best local workforce talent with state-of-the-art manufacturing and global technology for superior quality tires by Sentury brands."
Principal and General Manager at SSOE, Alexandra Segers, Dipl.-Ing., M.Sc., is based in SSOE's Atlanta office and will oversee the project, drawing on her vast experience with similar projects in the Southeast, specifically in the LaGrange area, as part of the KIA plant project. Commenting on the announcement, Alexandra shared, "I'm extremely excited to embark on this project with Sentury Tire. We have already developed a close partnership and look forward to achieving their goal of creating a new building standard for tire technology with their first North American facility. The LaGrange site is a prime location and SSOE's strong presence in the southeastern U.S. as well as in China, position us well to support the plant and all of Sentury Tire, for years to come."
"We could not be happier to have Alexandra and her team at SSOE partnering with the Sentury Tire team on this project in LaGrange," said Scott Malone, President of the Development Authority of LaGrange. "This is a world-class team that is being put together on a world-class project during a time of great growth and excitement in LaGrange."
SSOE, a Top 10 Manufacturing Design Firm for the last 6 years (Engineering News-Record), was selected to provide complete design of the facility based on their extensive experience with tire manufacturing facilities worldwide as well as their portfolio in the southeastern United States—including the ACEC-award-winning Volkswagen plant in Tennessee. The firm will also provide permitting and owner's representative services with an on-site team for the duration of construction.
The State of Georgia in conjunction with Governor Nathan Deal will host a groundbreaking ceremony at a date to be announced—for more information, visit the State of Georgia's Economic and Community Development website at www.georgia.org or www.lagrangedevelopment.com.
About Sentury Tire
Sentury Tire North America is the U.S. based subsidiary of Sentury Tire, a global automotive and aircraft tire manufacturer serving over 150 markets around the world, including the United States and Canada. The company's new GroundSpeed line of passenger vehicle and light truck tires include all-season, top-quality choices for virtually every driving need.
The company is preparing to build a new 400-acre, 1.4 million square-foot tire manufacturing operation in LaGrange, Georgia, just south of Atlanta. Sentury Tire North America's Georgia facility will include a smart-technology factory with an annual capacity of 12 million units, along with on-site proving grounds, research and development, and extensive warehousing and distribution operations. For more information, visit www.sentury.tires. Watch our story unfold on our YouTube channel.
Find us on social:
Facebook: facebook.com/senturytire
Instagram: @SenturyTireNA
Twitter: @SenturyTireNA
YouTube: @SenturyTireUSA
https://www.ssoe.com/wp-content/uploads/2017/07/Team-Logos-150x150-curve-for-website.png
150
150
hitch
http://www.ssoe.com/wp-content/uploads/SSOE-1805-Reg-2.svg
hitch
2017-07-11 10:30:56
2018-07-13 15:32:19
Sentury Tire Selects SSOE Group for Complete Design of 1.4 Million Square Foot Tire Manufacturing Facility in LaGrange, Georgia