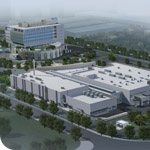 SSOE and General Motors Celebrate 1,000,000 Safety Man-hours in Shanghai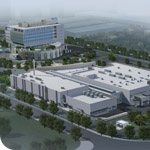 Shanghai, China, April 10, 2012 – SSOE Group (www.ssoe.com), an international engineering, procurement, and construction management (EPCM) firm, along with General Motors (GM), is celebrating another significant safety milestone. One million hours have been worked with no recordable incidents during Phase 2 of construction of GM's first Chinese Automotive Research and Development (R&D) facility, otherwise known as GM China's Advanced Technical Center. The new facility, currently being constructed in Shanghai, reached its' first milestone of 500,000 hours worked without a recordable accident just seven months ago, during construction of the Advanced Materials Laboratory Building, or Phase 1, which opened on September 21, 2011.
SSOE and GM were both represented during the celebration. President and Managing Director of the GM China Group, Kevin Wale, applauded the group noting, "This is truly a remarkable achievement – made possible only through the conscious effort each person put forth day in and day out to continuously review surroundings and look out for hazards on the job site before starting work. Safety is not just about numbers. It's about protecting workers from injury. I want to congratulate the SSOE construction team and contractors on-site for managing the success of this project and for working with GM to support our safety program."
Bob Howell, Chief Operating Officer (COO) and Chairman of the Board at SSOE added, "One million safe working hours is an accomplishment we take enormous pride in. Safety is ingrained in the cultures of both GM and SSOE. This milestone that we achieved could not have been possible without the superior dedication and teamwork demonstrated by the group of people here today. We must continue with our safe working awareness as safety has no end. Today's celebration is both for recognition of past achievement and for a new start for the future."
The facility sits on a 16.3 acre campus and work performed there will focus on advanced design, vehicle engineering, advanced powertrain development, urban mobility and manufacturing processes, and testing. Upon completion, the nearly 355,000 SF Advanced Training Center will consist of 62 testing labs and 9 research labs. SSOE's services include programming, conceptual design, master planning, detail design, and construction management. SSOE and GM are anticipating completion of Phase 2 construction to be in the second half of 2012.
About General Motors
General Motors has 11 joint ventures, two wholly owned foreign enterprises and more than 35,000 employees in China. GM and its joint ventures offer the broadest lineup of vehicles and brands among automakers in China. Passenger cars and commercial vehicles are sold under the Baojun, Buick, Cadillac, Chevrolet, Jiefang, Opel and Wuling brands. In 2011, GM sold more than 2.5 million vehicles in China. It has been the sales leader among global automakers in the market for seven consecutive years. More information on General Motors in China can be found at GM Media Online.
https://www.ssoe.com/wp-content/uploads/2012/04/150x150_SSOE_SSOE-and-general-motors-celebrate-1000000-safety-man-hours-in-shanghai.png
150
150
hitch
http://www.ssoe.com/wp-content/uploads/SSOE-1805-Reg-2.svg
hitch
2012-04-10 12:14:54
2018-07-11 18:21:01
SSOE and General Motors Celebrate 1,000,000 Safety Man-hours in Shanghai