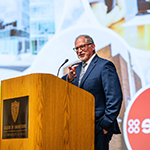 SSOE Group and CEO Vince DiPofi Announce Combined Multi-Year Gift to the University of Toledo College of Engineering to Empower a More Diverse Future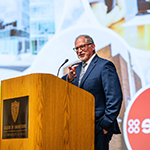 TOLEDO, Ohio, October 19, 2022 – SSOE Group (www.ssoe.com), an internationally ranked architecture and engineering firm, is excited to publicly announce the firm's increased focus on STEM and diversity, equity, and inclusion (DEI) that will deliver on all three tenets of their vision of designing and building the future for their clients, colleagues, and communities. The firm—which will celebrate its 75th year in 2023—with CEO Vince DiPofi, PE, and his wife, Sandra, is making a combined contribution to the University of Toledo (UToledo).
SSOE has a long history of giving and partnering with UToledo. With the firm's world headquarters just minutes away from the college where DiPofi himself graduated with a degree in mechanical engineering, SSOE decided this would be the natural place to kick off this initiative. UToledo has been and remains the firm's largest pipeline for talent, through integrated co-op and internship programs as well as curriculum innovation, with UToledo alumni representing around 20% of its global employee population.
Honoring the Past, Building the Future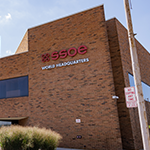 In August, SSOE kicked off its year-long celebration that will culminate on the firm's 75th anniversary on August 8, 2023. Over the 12 months leading up to the milestone, the firm has promised a number of exciting events and announcements—all under the prevailing theme of "honoring the past, building the future." This significant contribution to UToledo's College of Engineering is the first of many similar initiatives the firm will roll out in key regions of the U.S. over the course of the year. Over the next five years, SSOE and the DiPofi family will continue the inspiration between the two institutions that began with the firm's founder, the late Al Samborn, with this gift.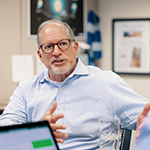 DiPofi, who was named Distinguished Alumnus by UToledo's College of Engineering in 2019, shared, "We believe it's important that corporate and educational institutions maintain and nurture long-term relationships like this. For this reason—combined with our ongoing commitment to DEI and advancing the AEC industry—we've decided to make this combined contribution to the University of Toledo. For SSOE, this is a renewal of an existing commitment. For Sandy and me, this is something we wanted to commit to personally—not only to honor my alma mater but the broader community. What we do today will ultimately help the engineering profession, our industry, and SSOE's clients in the future—the vision for this gift is multi-faceted."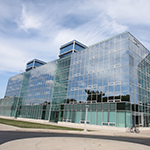 This gift will primarily support personnel and programming in the Office of Engineering Inclusive Excellence. That team, housed in UToledo's College of Engineering, helps ensure every student has access to the resources and tools needed for academic and career success. The contribution also includes funding for scholarships that will target high-performing students belonging to groups that have traditionally been underrepresented in engineering professions as well as classrooms.
The investment SSOE and the DiPofi family are making builds upon a strong foundation in UToledo's College of Engineering, awarded the Diversity Recognition Program's Bronze Award by the American Society for Engineering Education, and takes a more comprehensive view of the student experience—from K-12 outreach and STEM education to admissions and student retention. The gift will help fuel those existing initiatives and create new ones like Summer Bridge programming at the college.
Building SSOE's Identity as a Leader in DEI
Last night, Tuesday, October 18th, a celebration of the gift took place at UToledo's Nitschke Auditorium as part of the larger conversation around DEI. DiPofi—along with Candice Harrison, SSOE's Director of DEI and another UToledo alumni—spoke to an audience of students and local media following a Q&A with student panelists from the University of Toledo Engineering Council as well as the UToledo chapters of the National Society of Black Engineers and Society of Women Engineers.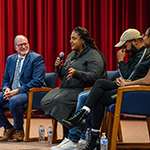 Student attendees came ready with their questions regarding the topic of inclusive excellence, and DiPofi and Harrison worked to build SSOE's identity as a leader in DEI with a presentation of data on the lack of diversity in engineering specifically, along with an overview of how the firm plans to help solve that problem. DiPofi also shared his personal DEI journey as a CEO in the AEC industry and what he and Harrison have been working on at SSOE to make the culture increasingly inclusive.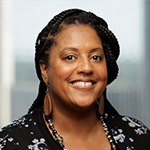 Harrison commented on the gift, saying "It's one thing to work for a company that walks the walk and provides financial resources to combat inequities… but to have our CEO and his wife personally contribute to a cause that fosters a more diverse future here at the University of Toledo, it speaks volumes to their commitment to DEI."
Dr. Lesley Berhan, Associate Dean for Diversity, Inclusion, and Community Engagement at UToledo's College of Engineering, shared, "Moving the needle on diversity and equity requires commitment of both human and financial resources. This support empowers us to continue translating our ideals into outcomes. If we admit a student, we expect them to succeed."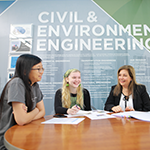 Berhan is no stranger to SSOE. In 2020, the firm began its official partnership with Berhan to strengthen inclusive excellence within its organization. Following Berhan's recommendations, SSOE continues to put specific strategies in place to engage and retain employees from groups traditionally underrepresented in the AEC industry— including implementing a culture committee comprised of diverse individuals from across the company and creating a Director of DEI position at the firm that reports directly to the CEO held by Harrison today.
SSOE and the DiPofi family are highlighted in a feature story on UToledo's website. Read "Multi-Year Engineering Gift Builds Bridge to a More Diverse Future" here—Dr. Mike Tool, Dean of UToledo's College of Engineering, quoted within.
Closing the Gap Together
"As a company whose success is rooted in the unique solutions it provides, diversity of thought is a strategic advantage, and broader participation brings broader perspectives and ideas," DiPofi shared. "The challenges we face as an industry, community, and country compels us to have diversity of thought—people who 'think differently than I do'—to meet these challenges, which requires the participation of a diverse population of people with diverse experiences. The best ideas of the next generation have not yet been born into reality."
With this combined gift, SSOE aims to foster those ideas coming to life and give rise to innovation that has never been realized in the past. The world of engineering needs more diversity to be stronger, better, and to meet the challenges of the next century.
DiPofi continued, "This gift and partnership are examples of us bringing our vision to reality. To design the future for our clients, we need colleagues who are the best and brightest. To find the best and brightest, we need to be fully engaged with our communities—especially the educational community—and committed to contributing to their vibrancy and growth to create opportunities for all."
https://www.ssoe.com/wp-content/uploads/ssoe_ut-multi-year-gift_150x150-7.png
150
150
Katie Junga
http://www.ssoe.com/wp-content/uploads/SSOE-1805-Reg-2.svg
Katie Junga
2022-10-18 14:49:07
2022-10-19 10:34:12
SSOE Group and CEO Vince DiPofi Announce Combined Multi-Year Gift to the University of Toledo College of Engineering to Empower a More Diverse Future