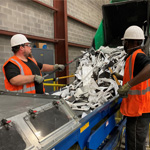 SSOE Group Providing Architecture and Engineering Services for Ascend Elements' Georgia-Based Brownfield Lithium-Ion Battery Recycling Facility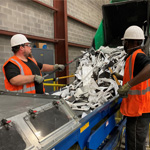 Facility to Become North America's Largest Battery Recycling Operation
COVINGTON, Georgia, September 21, 2022 – SSOE Group (www.ssoe.com), an internationally ranked firm with decades of experience delivering projects in the Southeast U.S., is providing architecture, engineering, procurement, construction, and commissioning services for Ascend Elements' 154,000 SF commercial-scale, lithium-ion battery recycling facility. Ascend Elements, a vertically integrated battery recycling and engineered materials company, is investing $43 million into its new Covington, Georgia facility, strategically located near several electric vehicle (EV) manufacturing hubs and lithium-ion battery producers.
Once complete, the new facility will have the capacity to process 30,000 metric tons of used lithium-ion batteries and scrap per year. This will create a sustainable solution to minimize the need for mining while returning valuable, battery-grade lithium, nickel, and cobalt back into the battery supply chain.
Dan Russell, Chief Operating Officer of Ascend Elements, commented on SSOE's involvement, stating, "We appreciated SSOE's early engagement for the technical evaluation of multiple sites, ultimately selecting Covington for our recycling operations. Their ability to partner with us during that process—combined with their expertise in the battery and automotive markets—helped us make a seamless transition into the design of our facility so we could hit the ground running. We look forward to their partnership in helping to achieve our goal to be fully operational later this year."
Over the past six years, SSOE has been engaged in more than 20 battery / EV manufacturing projects across 18 facilities in the U.S. and Mexico. SSOE's Rick Fox, PMP, Project Manager on the Ascend project, shared, "With the ever-increasing demand for electric vehicles, in line with global carbon reduction initiatives, there's now a significant need for the sustainable reuse of battery materials. Despite its growth, the EV market is still in its infancy—and not just in the U.S., but globally. Over these past few years of growth, we've been lucky enough to gain experience in all phases of the battery lifecycle, from materials production to cell production, through recycling."
Fox continued, "This fast-paced project for Ascend has resulted in tight schedules, but we've remained diligent, working with code officials and environmental permitting agencies to ensure the delivery of a safe project. We've also been working closely with Ascend to develop alternative execution and procurement strategies to quickly meet their business objectives."
Scott Hazen, PE, PMP, Project Director, commented, "As the electric vehicle industry continues its rapid growth, battery recycling has become a vital part of the supply chain and cutting reliance on unstable areas of the globe has never been more crucial for the future. In order to help support this growth and keep our client's schedule and budget on track, our project team has remained agile and prepared to adjust the plan as issues arise, such as delays in materials and equipment due to global supply chain issues, keeping the project moving and avoiding delays."
In addition to the firm's work on Ascend Element's Covington facility, SSOE is also assisting the client with preliminary engineering for future expansions—including greenfield work in Southwestern Kentucky.
About Ascend Elements
Based in Westborough, Massachusetts, Ascend Elements is revolutionizing the production of lithium-ion battery materials by establishing a clean and sustainable supply chain using recycled feedstock. The company's patented Hydro-to-Cathode™ technology directly synthesizes new cathode active materials from spent lithium-ion cells more efficiently than traditional methods, resulting in reduced cost, improved performance, lowered GHG emissions, better performance batteries with fewer discarded in landfill, a cleaner manufacturing process, and a truly sustainable closed-loop circular battery economy. Ascend Elements is taking the lithium-ion battery industry to a higher level.
https://www.ssoe.com/wp-content/uploads/shredder_150x150.jpg
150
150
Hannah Lee
http://www.ssoe.com/wp-content/uploads/SSOE-1805-Reg-2.svg
Hannah Lee
2022-09-21 10:00:24
2022-09-21 11:26:25
SSOE Group Providing Architecture and Engineering Services for Ascend Elements' Georgia-Based Brownfield Lithium-Ion Battery Recycling Facility