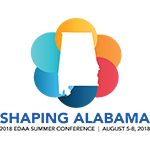 SSOE's Alexandra Segers Presents on Current Trends in International Site Selection and the Impacts of Potential / Existing Tariffs and Trade Agreements at the 2018 EDAA Summer Conference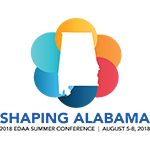 POINT CLEAR, Alabama, August 9, 2018 – SSOE Group (www.ssoe.com), a global architecture, engineering, and construction management firm, announced today that Alexandra Segers, Dipl.-Ing, PE, Program Manager and International Senior Account Executive at SSOE, and General Manager of the firm's Southeast U.S. operations, was invited to present at the Economic Development Association of Alabama (EDAA) Summer Conference. The event took place August 5-8, 2018 at the Grand Hotel in Point Clear, Alabama.
During Segers' presentation on Monday, August 6th, she spoke about the current landscape of the North American Free Trade Agreement (NAFTA), Trans-Pacific Partnership (TPP), and Transatlantic Trade and Investment Partnership (TTIP), and what the impact of new tariffs could have—specifically on the global automotive supply chains in China, Europe, and Mexico. In addition, she shares information about Foreign Direct Investment (FDI) and what that means for U.S. and global investments. In closing, she discussed her knowledge of the impacts of environmental concerns, natural disasters, and how mistakes during site selection can all cause massive delays to projects.
The EDAA is a membership-based organization focused on promoting economic growth in Alabama. Economic development professionals throughout the state, along with individuals and companies in related economic development fields, work with the EDAA staff and board of directors to help positively influence state legislation and industrial growth within the state.
Currently leading SSOE's Atlanta, Georgia office, Alexandra Segers has nearly 20 years of experience managing international projects for Fortune 500 clients. Alexandra has developed special insight into the unique needs of multinational clients. She has led teams through nearly every phase of a project, including planning, programming, design, and construction, and specializes in assisting clients with site selection outside their country of origin. She is one of the most widely sought after resources in the Southeast U.S. for her site selection and economic development expertise related to the manufacturing industry. Her capacity to speak German, Japanese, French, and English fluently, along with partial Chinese and Korean, sets her apart and allows her to better communicate with clients. Alexandra received her master's degree or "Diplom-Ingenieur" in civil engineering from the University of Karlsruhe, now named KIT-Karlsruhe Institute of Technology in Germany.
To learn more about site selection and due diligence from Alexandra's point of view, read her most recently published article in Area Development Magazine, here.
https://www.ssoe.com/wp-content/uploads/2018/08/EDAA_Conference_thumbnail_news_150x150.png
150
150
Jenni Roder
/wp-content/uploads/2018/05/logo_ssoe.png
Jenni Roder
2018-08-09 13:46:16
2018-10-01 09:35:30
SSOE's Alexandra Segers Presents on Current Trends in International Site Selection and the Impacts of Potential / Existing Tariffs and Trade Agreements at the 2018 EDAA Summer Conference