Adrienne Taylor of SSOE Group Receives 2012 Young Engineer of the Year Award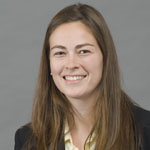 TOLEDO, Ohio, February 20, 2012 – SSOE Group (www.ssoe.com), an international engineering, procurement, and construction management (EPCM) firm, announced today that Adrienne Taylor, PE, was named "Young Engineer of the Year" by The Toledo Society of Professional Engineers (TSPE). Adrienne has been recognized for involvement in the community along with outstanding performance in her current role as a chemical process engineer in SSOE's Toledo, Ohio office.
"Adrienne Taylor is a bright, talented, and versatile engineer. In her six years at SSOE, she has quickly risen from a supporting role on large projects to leading them. She is the subject matter expert for many different platforms and has become a coach, teacher, and trainer for both younger and more experienced staff," stated Brad Galliers, PE and Section Manager for SSOE's Industrial Process division.
As a current member of The National Society of Professional Engineers (NSPE), Ohio Society of Professional Engineers (OSPE), and The Toledo Society of Professional Engineers (TSPE), Adrienne has been actively involved within the community. In 2011 she became the leadership co-chair for organizing SSOE's annual Engineer for a Day Program – part of National Engineer's week , where students from local high schools are invited to explore the career path of engineering.
Taylor is a 2003 graduate of The University of Dayton with a Bachelor of Science in Chemical Engineering and has been with SSOE since 2005. With a strong commitment to both personal and professional development, Adrienne earned her Professional Engineering (PE) license for the state of Ohio in 2011.
Nominees for the award were judged in seven categories: technical knowledge, professional interest and habits, personal character, leadership, public relations, civic spirit, and contributions to the community, state, and or nation. The award will be presented today at a luncheon held at The Hilton Garden Inn in Perrysburg, Ohio in honor of Engineer's Week.
About SSOE Group
As a Top 10 Engineering / Architecture firm for the past 5 years, SSOE Group focuses on delivering Great Client Service to clients through a full range of project delivery solutions. They have been named a "Great Workplace" (Great Place to Work®) and one of the "Best AEC Firms to Work For" (Building Design + Construction).
With more than 20 offices around the world, SSOE is known for making its clients successful by saving them time, trouble, and money. Over the company's 65+ year history, it has earned a reputation for providing quality project solutions to semiconductor, automotive, food, chemical, glass, manufacturing, healthcare, power, and general building industries—with projects completed in 40 countries. Visit www.ssoe.com for additional information and career opportunities.
Media Contact:
Jenni Roder
(419) 469-1918
(419) 351-6480 cell
jroder@ssoe.com
You can follow any responses to this entry through the RSS feed. Both comments and pings are currently closed.