Despite Ohio's High Unemployment, SSOE's Growth in State Continues with New Jobs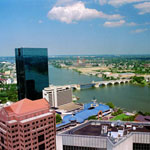 TOLEDO, OH, September 10, 2007 – With a presence in Ohio for nearly 60 years and three offices in the state, SSOE, Inc. – one of the nation's largest architecture and engineering firms – has increased its number of employees by 40 percent nationally in the past 12 months. Despite the struggles of the state's industrial base and an unemployment rate significantly higher than the national rate, SSOE's Ohio offices make up nearly half of that growth. Earlier this year, SSOE launched a nationwide recruitment effort to hire 200 architects and engineers by the end of 2007. That number was reached in August and there are still 75 positions in Ohio alone for which SSOE is currently recruiting professionals.
"Our revenue grew 30 percent in 2006, and we are projecting 25 percent growth for 2007," said Tony Damon, CEO of SSOE. "SSOE's total economic impact on the Toledo area alone is significant. Based on our revenue and local payroll, SSOE accounts for $1 out of every $156 dollars generated in the five-county area encompassing Lucas, Fulton, Ottawa and Wood Counties in Ohio and Monroe County in Michigan. SSOE also supports an additional 400 jobs in ancillary businesses by being based in Toledo"
SSOE currently employs approximately 540 professionals in Ohio, 20 percent of which represent positions created in the last 12 months. The average SSOE employee makes approximately $60,000 a year. The firm's growth in Ohio includes offices in:
– Toledo – Headquarters, within the year has increased its staff by nearly 30 percent and also expanded its office space downtown last year by moving its corporate officers two blocks down to the Hylant Building. SSOE is again preparing to move 25 more employees to the Hylant Building to make way for additional operations staff.
– Cincinnati – Increased employee count from 9 to 20 in 2007 alone. Plans for 2008 include additional hires based on a strong backload of process engineering and machine design work.
– Lima – Lima has increased its staff count to 34, a 35 percent increase over 2006. SSOE is one of the global leaders in architectural and engineering services for the automotive industry, as well as for clients in the healthcare, retail, education, science and technology, biofuels, chemical, food, glass, mining and personal care industries.
The firm's Ohio clients include:
– Bowling Green State University
– Chrysler
– ConAgra
– Ford Motor Company
– Greater Ohio Ethanol
– Honda
– J.M. Smucker Company
– Marathon
– Owens Corning
– Pilkington
– Procter & Gamble
– TRW Automotive
– The University of Toledo
SSOE's Ohio offices also manages projects from other states for the following clients:
– Blue Earth Biofuels
– Caterpillar
– Coca Cola
– Cummins Engine
– FedEx
– Freedom Fuels Biodiesel
– General Motors
– Glacial Lakes Energy
– Hershey
– Nissan
– The University of Michigan
– Toyota
About SSOE Group
As a Top 10 Engineering / Architecture firm for the past 5 years, SSOE Group focuses on delivering Great Client Service to clients through a full range of project delivery solutions. They have been named a "Great Workplace" (Great Place to Work®) and one of the "Best AEC Firms to Work For" (Building Design + Construction).
With more than 20 offices around the world, SSOE is known for making its clients successful by saving them time, trouble, and money. Over the company's 65+ year history, it has earned a reputation for providing quality project solutions to semiconductor, automotive, food, chemical, glass, manufacturing, healthcare, power, and general building industries—with projects completed in 40 countries. Visit www.ssoe.com for additional information and career opportunities.
Media Contact:
Jenni Roder
(419) 469-1918
(419) 351-6480 cell
jroder@ssoe.com
You can follow any responses to this entry through the RSS feed. Responses are currently closed, but you can trackback from your own site.