SSOE Announces 2008 Board Members and Officers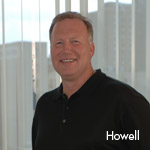 TOLEDO, OH, January 30, 2008 – SSOE, Inc., one of the nation's largest architecture and engineering firms, announced that Harold (Bob) R. Howell has been named Chairman of the Board for the 2008 calendar year and David S. Verner has been elected to the Board of Directors for a three year term, expiring in 2010.
"SSOE's organic growth over the last few years has allowed us to create career and ownership opportunities for numerous employees. These opportunities were not available and unheard of just a few years ago, also these opportunities never would have been made possible without our yearly double digit growth. With this unprecedented growth, we can't lose sight of the greatest asset we have, our employees. Our goal is to keep this growth sustainable while continuing to focus on improving our processes both internally and externally, to deliver the highest value possible to our clients. We must be the company of choice by our clients and employees." said Harold (Bob) Howell, Chairman of the Board and Executive Vice President of SSOE.
Board Members Continuing in Office:
Tony Damon, AIA
Harold (Bob) Howell, Jr.
Craig Bowie, PE
John (Jack) Steele II, PE
David Sipes, PE
Charles Heine, outside director
Thomas Brady, outside director
Leslie Green, outside director
In addition, the shareholders also elected Directors and Officers to SSOE Systems, Inc. Vincent DiPofi, Jr. has been elected as Vice President, Secretary and Treasurer. David Sipes, President and David Verner Vice President are continuing in office.
About SSOE Group
As a Top 10 Engineering / Architecture firm for the past 5 years, SSOE Group focuses on delivering Great Client Service to clients through a full range of project delivery solutions. They have been named a "Great Workplace" (Great Place to Work®) and one of the "Best AEC Firms to Work For" (Building Design + Construction).
With more than 20 offices around the world, SSOE is known for making its clients successful by saving them time, trouble, and money. Over the company's 65+ year history, it has earned a reputation for providing quality project solutions to semiconductor, automotive, food, chemical, glass, manufacturing, healthcare, power, and general building industries—with projects completed in 40 countries. Visit www.ssoe.com for additional information and career opportunities.
Media Contact:
Jenni Roder
(419) 469-1918
(419) 351-6480 cell
jroder@ssoe.com
You can follow any responses to this entry through the RSS feed. Responses are currently closed, but you can trackback from your own site.