SSOE Group Proud to Announce Employee Registrations and Certifications for First Quarter 2011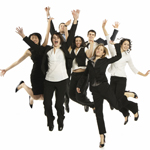 TOLEDO, Ohio, January 26, 2011– SSOE Group (www.ssoe.com), an international engineering, procurement, and construction management (EPCM) firm, announced today that two employees have earned registrations and two have earned certifications during the first quarter of their 2011 planning year. Attainment of professional licenses are strongly encouraged at SSOE. In fact, the company covers the expense of preparation classes and exam fees as well as providing paid time off to take the exam. Also, as an added incentive, once a staff member has passed an exam, they receive a recognition bonus.
Registrations
Joseph Markey, PE, and Matthew Paterson, PE, recently earned their professional engineering license. Both successfully completed the "Principles and Practice of Engineering" (PE) exam that measures the candidate's academic and practical knowledge of technical engineering. Candidates are eligible to take the exam after meeting statutory requirements that include a minimum of four years of acceptable work experience. Markey is a chemical engineer located in SSOE's Midland, Michigan office and has sixteen years of experience. Paterson is an electrical engineer located in SSOE's Troy, Michigan office and has seven years of experience.
Certifications
Rick Fox, PMP, recently earned his certification as a Project Management Professional (PMP). This certification, awarded by the Project Management Institute (PMI), indicates that the individual possesses the knowledge and skill necessary to lead and direct project teams, and deliver project results within the constraints of schedule, budget, and resources. Fox is an assistant project manager located in SSOE's Toledo, Ohio office with seven years of experience.
Zach Platsis, CEM, LEED AP O+M, recently earned his certification as a Certified Energy Manager (CEM). This certification, awarded by the Association of Energy Engineers, recognizes individuals who have demonstrated high levels of experience, competence, proficiency, and ethical fitness in the energy management profession. Platsis is an energy consultant located in SSOE's Toledo, Ohio office and has thirteen years of experience.
About SSOE Group
As a Top 10 Engineering / Architecture firm for the past 5 years, SSOE Group focuses on delivering Great Client Service to clients through a full range of project delivery solutions. They have been named a "Great Workplace" (Great Place to Work®) and one of the "Best AEC Firms to Work For" (Building Design + Construction).
With more than 20 offices around the world, SSOE is known for making its clients successful by saving them time, trouble, and money. Over the company's 65+ year history, it has earned a reputation for providing quality project solutions to semiconductor, automotive, food, chemical, glass, manufacturing, healthcare, power, and general building industries—with projects completed in 40 countries. Visit www.ssoe.com for additional information and career opportunities.
Media Contact:
Jenni Roder
(419) 469-1918
(419) 351-6480 cell
jroder@ssoe.com
You can follow any responses to this entry through the RSS feed. Responses are currently closed, but you can trackback from your own site.