SSOE Group Recognized as one of the Fastest-Growing Architectural, Engineering, Planning, and Environmental Consulting Firms in the U.S.
Named "Hot Firm" by Zweig Group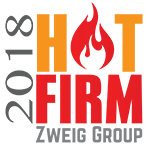 TOLEDO, Ohio, June 27, 2018 – SSOE Group (www.ssoe.com), a global project delivery firm for architecture, engineering, and construction management, has again been ranked as a "Hot Firm" by management consulting and research firm Zweig Group. This ranking signifies that SSOE is one of the fastest-growing architecture, engineering, planning, and environmental consulting firms in the United States. SSOE made a significant jump in the rankings, moving from 95th last year to 44th this year.
Zweig Group's "Hot Firm" List is determined by evaluating a firm's percentage growth rate and dollar revenue growth rate, over the previous 3-year period. This ranking, established over 20 years ago, is the only list celebrating and honoring growth in the industry.
"As an organization, SSOE has been hard at work aligning our culture with our strategy, placing the priority on clients, culture, collaboration, and employees through a variety of initiatives." said SSOE's CEO, Bob Howell. "We see these four focus areas as the 'leading indicators' to our financial performance, which is a 'lagging indicator'. SSOE achieved its greatest financial performance year in company history in 2017. We attribute this financial success to the efforts and initiatives put forth by all employees in order to make this shift in culture. As a result, we have seen increased safety awareness, improved client satisfaction ratings and referrals, improved collaboration between employees and clients, greater quality audit scores, better efficiencies, significant internal increases in innovation, and a dramatic increase in employee retention, to name a few."
"Firms throughout the industry continue to see impressive growth, which makes the firms on the 2018 Hot Firm List that much more remarkable. The growth that these firms have had over the last three years is a testament to the quality and effort of work that is necessary to succeed and stand out in this industry," said Kyle Ahern, Awards Manager, Zweig Group.
The winners will be celebrated at the Hot Firm and A/E Industry Awards Conference, held in Dallas, Texas on September 20 – 21, 2018. Awards will be presented at a black-tie ceremony on the evening of September 21.
The complete 2018 "Hot Firm" list can be viewed here: https://zweiggroup.com/about-hot-firm/
About SSOE Group
As a Top 10 Engineering / Architecture firm for the past 5 years, SSOE Group focuses on delivering Great Client Service to clients through a full range of project delivery solutions. They have been named a "Great Workplace" (Great Place to Work®) and one of the "Best AEC Firms to Work For" (Building Design + Construction).
With more than 20 offices around the world, SSOE is known for making its clients successful by saving them time, trouble, and money. Over the company's 65+ year history, it has earned a reputation for providing quality project solutions to semiconductor, automotive, food, chemical, glass, manufacturing, healthcare, power, and general building industries—with projects completed in 40 countries. Visit www.ssoe.com for additional information and career opportunities.
Media Contact:
Jenni Roder
(419) 469-1918
(419) 351-6480 cell
jroder@ssoe.com
You can follow any responses to this entry through the RSS feed. Both comments and pings are currently closed.
Tagged careers-feature, construction-feature, Design Feature, energy-consulting-feature, engineering-feature, front-page-feature, master-planning-feature