SSOE Group to Host Distracted Driver Simulator
SSOE Holds Community Safety Event to Encourage Safe Driving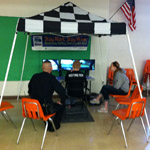 TOLEDO, Ohio, March 28, 2012 – SSOE along with the Safety Council of Northwest Ohio, encourage employees, their family members, and other invited guests to test their ability to drive while distracted or impaired in the Ohio Department of Transportation's (ODOT's) Distracted Driver Simulator. This event will be held at SSOE's downtown Toledo headquarters in hopes of raising awareness about the consequences of distracted driving.
On Tuesday, April 3, 2012 from 4:00pm to 7:00pm, SSOE opens their doors for a community safety event where guests will have the opportunity to take a spin in ODOT's new Distracted Driver Simulator and will be encouraged to "Take the Pledge" to resist all  cell phone activity while driving. The Toledo Police Department will also be present during the event to perform field sobriety tests on individuals wearing intoxication goggles.
"At SSOE we believe that safety is not something that you only practice at work." said SSOE's Safety Manager Tony Geise. "The most dangerous part of our day is actually the commute to and from our jobs. The activities surrounding the simulator show that distracted driving is the same as driving while impaired. Our goal is to increase the number of safe drivers on the road and reduce the number of injuries and fatalities associated with texting and driving."
The Distracted Driver Simulator challenges participants to navigate city streets and highways while talking on the phone, sending a text message, and listening to passenger conversations. The simulator is part of the ODOT's comprehensive roadway safety campaign "Every Move You Make, Keep It Safe", which aims to educate Ohioans on how to use the roads safely – whether behind the wheel, behind the handlebars, or on foot.
In 2010, Ohio law enforcement agencies reported 39 fatalities, 454 serious injuries, and 12,410 crashes that were attributed specifically to distracted driving. ODOT's new safety campaign is linked to the state's overall goal of reducing roadway fatalities 5% by 2015. With nearly 300,000 crashes across Ohio in 2010 and more than 1,000 deaths, this initiative could help save 150 lives on Ohio's roadways.
"Distracted driving is dangerous and can have serious – even fatal – consequences," said ODOT Director Jerry Wray. "In particular, cell phone use while driving is very risky and our new simulator will show Ohioans the real dangers and consequences of distracted driving."
In addition to SSOE's community safety event, the Distracted Driver Simulator will be available at Owens Corning headquarters on Wednesday, April 4, 2012; The University of Toledo Student Union on Thursday, April 5, 2012; and at the Oregon Municipal Complex on Friday, April 6, 2012.
About SSOE Group
As a Top 10 Engineering / Architecture firm for the past 5 years, SSOE Group focuses on delivering Great Client Service to clients through a full range of project delivery solutions. They have been named a "Great Workplace" (Great Place to Work®) and one of the "Best AEC Firms to Work For" (Building Design + Construction).
With more than 20 offices around the world, SSOE is known for making its clients successful by saving them time, trouble, and money. Over the company's 65+ year history, it has earned a reputation for providing quality project solutions to semiconductor, automotive, food, chemical, glass, manufacturing, healthcare, power, and general building industries—with projects completed in 40 countries. Visit www.ssoe.com for additional information and career opportunities.
Media Contact:
Jenni Roder
(419) 469-1918
(419) 351-6480 cell
jroder@ssoe.com
You can follow any responses to this entry through the RSS feed. Both comments and pings are currently closed.
Tagged distracted driver, ODOT, safety