Engineering Inc. Magazine Article: "ACEC 2013 Engineering Excellence Awards"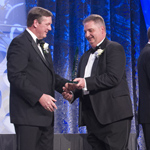 SSOE's Volkswagen Chattanooga Plant project is featured in Engineering Inc.'s Grand Award Recipient Article as one of the eight grand award winners for Engineering Excellence at the 47th Annual Engineering Excellence Awards. The $1 billion production facility produces the Passat and became the first and only LEED® Platinum automotive plant in the world, the first LEED platinum industrial campus in the U.S., and the largest platinum project in the U.S. (based on building area).
To read the full article, click here.
You can follow any responses to this entry through the RSS feed. Both comments and pings are currently closed.