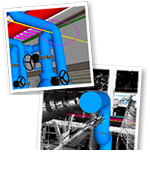 Pulling back the curtain on VDC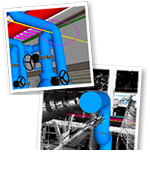 In moving a project from statement of work to completion of construction, regular collaboration between owners, designers, and contractors is no longer a luxury. It is the managerial insurance the project must have in order to stay on schedule and budget. Much of the unbudgeted time and expense incurred by change orders can be attributed to a lack of integration between the players. It's often because these parties failed to include the resources and intentional effort for collaboration.
Virtual Design and Construction (VDC) is one of the most effective means for achieving this integration. Using its framework, teams can collectively and collaboratively manage design-construction projects. VDC also provides an ongoing, updated, and holistic view of the project, ensuring that the input of all stakeholders is gathered and assessed early in the design phase. While this generally requires a higher investment upfront, over the life of your project, it has the potential to save you time, trouble, and money. For one client,  awarding a design contract that required a higher upfront investment resulted in a 29% savings over the life of a $200 million project. The following examples show why VDC has become a power tool for driving overall project performance not only in regard to cost, but also schedule, quality, and safety.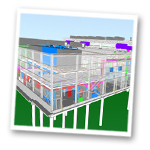 Shifting the focus to collaboration:
Typically, several criteria enter into the selection of project teams: experience, price, and geographic proximity. Today, it is advisable to consider more sophisticated criteria, specifically, a proven ability and willingness to collaborate with you as a client and other project team members.-month schedule. Gaining three months of production time generated significant revenue and profit for the client.
VDC requires construction partners to provide early input into design to drive constructability. Design partners must be willing to consider strategies like modularization and prefabrication with the input of those who will ultimately fabricate and install. As an owner, you will see maximum value by providing input as design takes shape rather than waiting for review milestones. By itself, technology cannot drive out wasted time and costs or initiate the collaboration model needed to transform the way projects are executed. A fundamental shift is needed in how your design and construction teams work together—focusing on overall project success through concentrated, intentional collaboration rather than fixating on their own team's milestones.
How online models can reduce waste:
Before the advent of 3D modeling, conventional drawings were once the centerpiece of the design phase of any project. This convention often overlooked the fact that drawings themselves are a means and not an end. Using the software formats we have today, which are much richer with information than 2D drawings, teams have ways of exchanging information in real time that support the real end: your built project.
A development that both supports collaboration while simultaneously enriching information exchange is the 3D modeling that puts the V in VDC. These models allow design leaders to walk you and the rest of the team virtually through the design. In one case, after completing such a walk-through, the owner's project manager was so encouraged that he requested a copy of the model to show his management instead of having to describe it in a report. His request led the design leaders to post the evolving model on their file server every week. Sharing the model, as it was updated, had the additional benefit of improving the outcomes of meetings.
When a design team collaborates in real time with fabricators, the designers are often astonished at how some of their seemingly small decisions—whether in structural steel, rebar, or piping—can add wasteful labor that results in inefficient fabrication. In one case, the piping system detailers unknowingly dimensioned pipe spools in a way that forced the fabricator to splice in 2-inch spacers at every connection point between the spools. This doubled the number of welds required and nearly doubled the labor required. A visit to the fabricator helped the designers realize they had not understood how the fittings were welded to the pipes until they saw the pile of spacers. Because the two parties were collaborating from the onset, the designers were able to modify the design and reduce the overall cost of the piping installation.
The true power of VDC is unleashed when those same models continue to be used by fabricators and the construction team rather than having to be re-created or enhanced; they've been designed with useful detail and input from the start. This saves time and cost of reworking these models, along with potential items that can be lost in the process.
New technology enables a level of collaboration that was not possible five years ago. It is the convergence of this technology and a rethinking of the traditional team framework that allows project management to "tune" the way packages are sequenced and scheduled, lowering the installed cost, and compressing the schedule of your project.
Showing the true impact of scope changes:
One of the perennial challenges to any project's schedule and budget is midstream scope changes. As every seasoned owner knows, it can be difficult to evaluate whether the benefit of the change outweighs the impact and potential for unanticipated problems. Transparency, collaboration, and 3D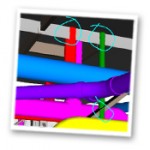 modeling all help in this decision process. In an interactive review, the team collectively walks through the proposed change. This leads to questions, drives discussion, and unveils the potential impact.
Advanced modeling allows a design leader to walk you and any stakeholders through a reconfigured model, pointing out exactly how a change will impact the schedule and bottom line. This empowers you to make an educated decision on the value versus impact of scope changes. Wherever it has been implemented, this process has drastically reduced the impact of change orders.
In many cases, change orders can be handled simply by moving costs and efforts around within the team. This flexibility is possible when the teams consider themselves to be a single purpose company for your project. If a leader determines that an extra 80 hours of design will save 1000 hours of construction downstream, you can approve the recommendation and avoid the hassle of a formal change request.
The biggest lesson learned is the importance of a process, such as VDC, that rewards collaboration among the project teams in every phase of a project. The members of these teams already understand the roles of their specific disciplines; now, they are also beginning to realize the importance of communicating clearly and regularly with other team members, shifting their goal from successful completion of their own milestones to the overall success of your project.
Leave you wanting more?
Click here to check out our VDC Blog, which brings this industry game changer to light in small, content-rich doses. To read more features from SSOE Scenes, our recent mailer offering a focused look at advances in design technology and VDC, visit www.ssoe.com/scenes.

https://www.ssoe.com/wp-content/uploads/2015/09/150x150_SSOE_pulling-back-the-curtain-on-VDC.png
176
150
Katie Junga
http://www.ssoe.com/wp-content/uploads/SSOE-1805-Reg-2.svg
Katie Junga
2015-09-07 12:09:49
2020-04-01 17:45:42
Pulling back the curtain on VDC