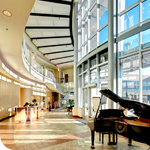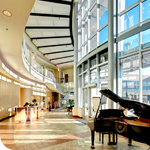 Toledo, Ohio, June 11, 2013— SSOE Group (www.ssoe.com), a global engineering, procurement, and construction management (EPCM) firm, was recently recognized with an  Illumination Award of Merit from the Illuminating Engineering Society (IES) for their outstanding interior lighting design at Slidell Regional Cancer Center in Slidell, Louisiana. The project was submitted in the category of The Edwin F. Guth Memorial Award for Interior Lighting Design. The awards are based on complexity of the problem, overall concept including integration into the architectural design, and design solution including energy and environmental considerations as well as budget and maintenance concerns.
Slidell Regional Cancer Center is a 50,000-plus square-foot outpatient cancer center designed to bring state-of the -art cancer care to the greater New Orleans region. Taking inspiration from the client's plan to feature a grand piano in the lobby, lantern boxes were designed in a shape and pattern reflective of the keys of the piano bringing dramatic nighttime lighting to the main façade of the building. The lobby is over two stories high, posing design challenges for maintaining the fixtures and accommodating systems like fire protection sprinklers.
SSOE worked closely with Chief Design Architect, Daniel Chang, NCARB, ASTRO, ACE of AE Design, Inc. to devise a solution. Chang said, "We have worked with John Gill and SSOE for over 13 years producing award winning projects. John has a deep understanding of architectural and project design intent, better than most engineers and has an appreciation for well-designed lighting. We knew this partnership would lead to a well-executed design."
Energy-efficient, long-life, white LED light strings were housed in custom designed lantern boxes with a light-transmitting polyester fabric stretched over a metal frame. The result was a lightweight, fire-resistant box with excellent light transmission and even diffusion. The spaces between the suspended lanterns are blacked out giving the look of the ebony key while providing space for maintenance and required systems. The dynamic visual of the "keyboard" of lanterns accentuates the space, guiding the eye through the vertical contour of the building. SSOE Project Manager and electrical lead engineer, John Gill, PE, LEED AP said, "The design is very unique and well integrated into the whole architecture of the building. I think we successfully made the facility a stand out in the community and promoted the high-tech vision Slidell maintains in their advanced cancer treatments."
The IES of North America is dedicated to improving the lighted environment and is the technical authority on illumination. Their objective is to communicate information on all aspects of good lighting practice to members and consumers through programs, publications, and services. With a diverse membership of nearly 8,000, IES is comprised of groups such as lighting designers, architects, interior designers, engineers, and manufacturers throughout the world.
For more information on the Slidell Regional Cancer Center project visit: https://www.ssoe.com/profiles/project-profile-expansion-of-cancer-treatment-facilities/
https://www.ssoe.com/wp-content/uploads/2013/06/150x150_SSOE_2013-illumination-award-of-merit.png
150
150
hitch
/wp-content/uploads/2018/05/logo_ssoe.png
hitch
2013-06-11 08:35:23
2018-07-11 16:55:07
SSOE Group Recipient of 2013 Illumination Award of Merit for Interior Lighting Design at Slidell Regional Cancer Center