AIA Honors SSOE Group with Citation Award for Design of Northview High School Performing Arts Addition and Renovation
SSOE Received Award at the Toledo Chapter of the American Institute of Architects' (AIA) Annual Toledo Design Awards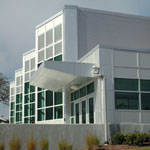 Toledo, Ohio, January 27, 2012— SSOE Group (www.ssoe.com), an international engineering, procurement, and construction management (EPCM) firm, was recently honored with a citation award for their design of Sylvania School District's Northview High School Performing Arts addition and renovation project.
SSOE's lead architect for the Performing Arts Center, Tim Swartz, is proud to bring additional recognition to the architectural capabilities of SSOE. "SSOE is often times thought of as only providing engineering and construction management services, so it is great we can also be acknowledged for our achievements in architecture," Swartz said. The new Performing Arts center sits on the bluff of the Ottawa River allowing for dramatic views of the building which enabled SSOE architects to take advantage of natural topography of the site.
Upgrading a building of that age and comprehensively addressing the needs and requirements of the school, while working within a limited site, brought a number of challenges. "It was very rewarding to overcome those challenges to allow teachers and students to enjoy a customized learning environment to continue their prestigious performing arts program," noted Ken Schumaker, SSOE's Design Architect for the project. The renovated Performing Arts Center is three times the original building size.
In addition to the Northview High School Performing Arts project, SSOE is also responsible for the renovations and additions to Southview High School, McCord Junior High, Arbor Hills Junior High, the new Maplewood Elementary, Hill View Elementary, Central Elementary School, and a new administration office. These projects include new science laboratories, a cosmetology laboratory, and classrooms.
For additional information on this project click here.
About SSOE Group
As a Top 10 Engineering / Architecture firm for the past 5 years, SSOE Group focuses on delivering Great Client Service to clients through a full range of project delivery solutions. They have been named a "Great Workplace" (Great Place to Work®) and one of the "Best AEC Firms to Work For" (Building Design + Construction).
With more than 20 offices around the world, SSOE is known for making its clients successful by saving them time, trouble, and money. Over the company's 65+ year history, it has earned a reputation for providing quality project solutions to semiconductor, automotive, food, chemical, glass, manufacturing, healthcare, power, and general building industries—with projects completed in 40 countries. Visit www.ssoe.com for additional information and career opportunities.
Media Contact:
Jenni Roder
(419) 469-1918
(419) 351-6480 cell
jroder@ssoe.com
You can follow any responses to this entry through the RSS feed. Both comments and pings are currently closed.
Tagged Design Feature, education-feature