EY Announces Bob Howell of SSOE Group Entrepreneur Of The Year® 2018 Award Finalist in Michigan and Northwest Ohio Region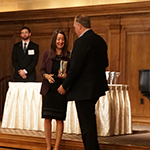 TOLEDO, Ohio, May 17, 2018 – SSOE Group (www.ssoe.com), a global project delivery firm for architecture, engineering, and construction management, announced today that Bob Howell, President and CEO, is a finalist for the Entrepreneur Of The Year 2018 Award in the Michigan and Northwest Ohio Region. Joined by members of SSOE's leadership team, he accepted his finalist award on Wednesday, May 16th at the Detroit Athletic Club, along with 28 other regional finalists. The awards program recognizes entrepreneurs who are excelling in areas such as innovation, financial performance, and personal commitment to their businesses and communities. Bob was selected as a finalist by a panel of independent judges.
Bob truly has come up through the ranks at SSOE. Starting as a Draftsman Trainee in 1980, he literally worked his way to the top—progressing to Draftsman, Designer, Sr. Designer, Project Manager, Sr. Project Manager, Department Manager, Strategic Business Unit Manager, International Operations Manager, COO, and Chairman of the Board. In 2014, he was appointed President / CEO of the global project delivery firm. As Chairman for 6 years prior to his appointment to CEO, he's helped shape key corporate strategies and decisions that have furthered the firm's legacy and trajectory of growth. His expansive experience has positioned him to make decisions in the best interest of employees and clients, with a career consistently marked with leading the charge into new industry sectors, service offerings, and global markets.
Award winners will be announced at a special gala event on June 27th at the Detroit Institute of Arts.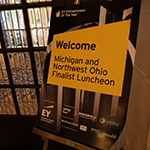 About Entrepreneur Of The Year®
Entrepreneur Of The Year, founded by EY, is the world's most prestigious business awards program for entrepreneurs, chosen from an independent panel of judges including entrepreneurs and prominent leaders from business, finance, and the local community. Now in its 32nd year, the program makes a difference through the way it encourages entrepreneurial activity among those with potential and recognizes the contribution of people who inspire others with their vision, leadership, and achievement. As the first and only truly global awards program of its kind, Entrepreneur Of The Year celebrates those who are building and leading successful, growing, and dynamic businesses—recognizing them through regional, national and global awards programs in more than 145 cities and more than 60 countries.
For additional information on the Entrepreneur Of The Year program, visit ey.com/eoy.
About SSOE Group
As a Top 10 Engineering / Architecture firm for the past 5 years, SSOE Group focuses on delivering Great Client Service to clients through a full range of project delivery solutions. They have been named a "Great Workplace" (Great Place to Work®) and one of the "Best AEC Firms to Work For" (Building Design + Construction).
With more than 20 offices around the world, SSOE is known for making its clients successful by saving them time, trouble, and money. Over the company's 65+ year history, it has earned a reputation for providing quality project solutions to semiconductor, automotive, food, chemical, glass, manufacturing, healthcare, power, and general building industries—with projects completed in 40 countries. Visit www.ssoe.com for additional information and career opportunities.
Media Contact:
Jenni Roder
(419) 469-1918
(419) 351-6480 cell
jroder@ssoe.com
You can follow any responses to this entry through the RSS feed. Both comments and pings are currently closed.
Tagged Bob Howell, construction-feature, Design Feature, engineering-feature, News Feature